Seniors Froelich, Willcott spark
LHS

at home tourney
Lansing nabs second place, lands two in top 10
Stefan Froelich knows Leavenworth Country Club's golf course; no doubt about it.
That's why Froelich's season-best round of 78 - which was good enough to place sixth at the Lansing Invitational on Monday - was no fluke.
"I've been playing this course since I was about seven," Froelich said. "So I know every inch of it.
Photo Gallery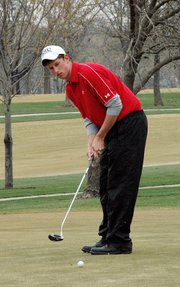 Lansing Invitational Golf Tournament
"That really helped to my advantage because some of the yardage can be tricky, so I definitely had that edge on the rest of the competitors."
It was the third time in as many tournaments that the Lansing High senior has been his team's top performer. On Monday, however, all of the LHS golfers performed well. Five of the six turned in their top rounds of the season. The sixth, junior Maria Jackson, matched her best score of the year.
Those scores were good enough to land Lansing a second-place finish at the home tournament. Topeka Hayden won the tournament with a five-player score of 299. Hayden had the top four scores in the field, led by tournament champion Brandon Falley's 72.
Lansing's score of 333 comfortably outdistanced Kaw Valley League foes Basehor-Linwood, Mill Valley, Immaculata, Bonner Springs, Piper and Tonganoxie.
In addition to Froelich's solid round, senior Ryan Willcott placed 10th with an 83, junior Zach Robinson and sophomore Kyle Willcott each shot 86, Jackson had an 87 and sophomore Josh Greene fired an 88.
So what does this performance ultimately mean? Let Ryan Willcott explain.
"Coach has been telling us that this (score) is going to get us to league, that this is going to get us to state," he said. "As a matter of fact, 333 is what we shot today, and that beat out Mill Valley at regionals and got us to state (last year), so we're pretty pumped about that."
The Lions have expected to receive quality rounds from their varsity returners, but Froelich said he was excited to see the improved scores from Robinson, Greene and Kyle Willcott.
"I'm really proud of those guys because it shows that they can step up and play with the big boys on varsity," he said.
Lansing next plays on Saturday, April 21, at the Osawatomie Invitational.