State ready to roll on casinos
Governor signs legislation expanding gambling opportunities in Kansas
A Las Vegas-style casino-resort 20 minutes from Lansing could become a reality under historic legislation approved Wednesday by Gov. Kathleen Sebelius.
Sebelius' signature on the bill that legislators approved last month ends 15 years of attempts by gambling supporters to widen gambling opportunities in Kansas.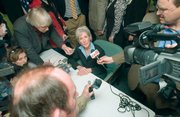 It also starts a race to the courthouse in legal challenges to the law, and a rush of activity among potential bidders for big-time casinos.
And the Legislature's work may not be done yet, as both supporters and detractors of the bill have pointed out flaws that may need to be corrected when lawmakers return for a brief wrap-up session on April 25.
But on Wednesday, Sebelius touted the measure as she traveled the state on a publicity tour, putting a portion of her signature on the bill at stops in Wichita, Dodge City, Kansas City, Kan., and Columbus - all potential casino spots.
"It is about keeping money here in Kansas, without raising taxes," she said.
Four casinos planned
Supporters of the law say once fully implemented it could generate $200 million annually in revenue. The law will take effect later this month, once it is published in the Kansas Register.
The law would allow casino-resorts in Wyandotte and Ford counties, as well as south-central Kansas and southeastern Kansas. Those could take several years to develop. It also would allow, possibly this year, 2,800 electronic video games at The Woodlands horse and dog track in Kansas City, Kan., Wichita Greyhound Park and Camptown Greyhound Park in Frontenac.
Voters in the local counties would have to approve the casinos, slots or both.
Currently, there are four American Indian tribal casinos in northeast Kansas that were established in the 1990s under compacts with the state, although the state collects no revenue from the operations.
Two of those tribes - the Kickapoo and Sac and Fox - have announced they will bid on building a casino in Wyandotte County. They own 80 acres near the Kansas Speedway and The Woodlands horse and dog track - about a 20-minute drive from Lansing - and have in the past proposed a $210 million casino complex.
Legal challenges
But the Prairie Band Potawatomi Nation, which owns the largest casino in Kansas - Harrah's Prairie Band Casino in Mayetta - has said it will probably file suit, seeking to block the legislation.
Under the bill, the casinos and slots at the tracks would be state-owned and would be called "lottery gaming facilities." The Kansas Constitution allows only a state-owned lottery.
Opponents of the bill say it is too much of a stretch to say that the casinos will be state-owned when they will actually be privately operated, or that the games can be classified as lottery games.
Sebelius said she has discussed with Attorney General Paul Morrison the idea of bringing a legal challenge to the law to expedite a Kansas Supreme Court decision.
"We want investors to be confident," Sebelius said.
Morrison's spokeswoman Ashley Anstaett said he is reviewing the gambling measure "to assure a prompt review of its constitutionality."
Glenn Thompson, executive director of the anti-gambling group Stand Up for Kansas, said the Legislature bypassed traditional procedures to adopt the measure. It took a simple bill to extend the life of the Kansas Lottery, and amended it without close scrutiny, he said.
"The whole debate process was a farce," Thompson said.
And problems have cropped up in the bill.
What some lawmakers are calling an inadvertent error could deprive the city of Wichita of $1 million in revenue sharing.
That and other mistakes have increased pressure to consider a so-called "trailer" bill to correct the situation when the Legislature returns for its wrap-up session.