A family affair
Families put fitness first at community race
Most of the runners at the second annual Lansing Fun Run had to rise extra early Sunday morning.
Not Paul Krueger and his daughter Emily. Instead, they got to sleep in.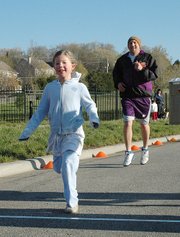 They'd headed out the door for 5 a.m. training runs three mornings per week for the past three weeks to prepare for the race. That made the 8 a.m. start a treat.
Paul works in Olathe, he explained, so he usually arrived home too late to run. That meant mornings would have to do.
The training paid off as Emily, 7, placed third overall in the one-mile run. Paul Krueger crossed the finish line a few seconds later in fourth place with a smile on his face.
"She pushed me more than I pushed her," he said. "It was great just being able to spend some time together working toward a goal and having fun."
Emily said she enjoyed waking up early to run with her dad.
"I liked it a lot," she said. "We took our dog sometimes."
The Kruegers weren't the only ones that made the Lansing Fun Run a family affair. About 100 runners participated on the chilly morning, and many of them were from the same family.
Lansing resident Gary Courtney and his family participated, and they even posed for a family photo at the finish line after the race. Lansing Elementary School principal Tim Newton and his brother-in-law ran together.
"I really wanted this to be a family event," said Vickie Kelly, race organizer and Lansing Elementary School kindergarten teacher. "We had an awesome turnout. I was so excited to see everybody that turned out and everyone that support this endeavor."
Then there was the Bresser family. David Bresser, 35, was the men's champion in the five-kilometer race in 19:04. His son Jack, 10, was the top overall finisher in the mile run in 7:52, and his daughter Emma, 7, was the second finisher and top female in the mile in 8:48.
David Bresser said physical fitness is an activity his family enjoys, and he noted his children would be competing in a triathlon this weekend in Leavenworth.
"We like to be outside and active instead of just sitting around," he said. "I don't know if we really train for anything specific. It's just something we do for fun."
Lansing High School teacher Melanie King finished the 5K in 22:28 and was the top female finisher for the second straight year.