Lansing
DAZE

to move
City announces earlier dates, new venue for 2007 festival
The parade is gone but the fireworks will stick around, even as the annual Lansing DAZE event moves from the second weekend in June to the first weekend in May.
Lansing DAZE is now scheduled for May 4 and 5 at Towne Center, said City Administrator Mike Smith. It will coincide with the Brew, Blues & Bar-B-Que Cook-Off the city has sponsored the past two years. The BBQ event originally was held in conjunction with Lansing DAZE but was moved because of regulations to gain sanctioning from the Kansas City Barbecue Society.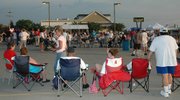 With the two events back together, Smith said staff time would be used more effectively. The decision to move Lansing DAZE up a month, though late, did not come completely out of the blue.
"We've been talking about doing this for a while. We just don't have the staff to hold two major events," Smith said.
The decision to merge the events on the earlier date came about in large part because of the closure of The Overlook restaurant earlier this month and a pending sale of a nearby parking lot. Both properties are used extensively during Lansing DAZE and would have been unavailable.
Smith pointed out that the first Lansing DAZE actually was on the first weekend in May. He said this move would not only return the event to its roots, but also make it easier for Lansing schools to take part in the celebration.
"We try to get the high school band involved with this," Smith said. "In June, school's out and they are gone."
Smith said he hoped the BBQ cookoff would serve to draw people to Lansing DAZE, and vice-versa.
"We think people are going to like this better. We were having difficulty trying to get people to attend Lansing DAZE," Smith said.
Shanae Randolph, director of Economic Development/Convention and Visitors Bureau, said the earlier date probably would place vendors and visitors under some time constraints, but she thought most everything could be worked out.
Randolph said there was a chance that there wouldn't be as many quilts for the quilt show, but otherwise everything else should go off as planned.
The Kiwanis Club Pancake Breakfast is on and will be May 5 in the Lansing High School cafeteria. The Lions Club car show is also scheduled to continue. Food vendors have also been moved to the new date with few - if any - disruptions, Randolph said.
The parade is off for this year, but there are plans for to bring it back next year, perhaps even better.
"We also thought we'd be able to do more with the parade next year - when the construction is over - from this location," Randolph said.
The Lansing DAZE golf tournament this year stays on the June date, and may stay there next year as well, Smith said.