Lansing salvages split with Santa Fe Trail
Despite a slow start to the season, the youth-laden Lansing High baseball team has shown numerous signs of being a team that could make another run at the state tournament.
The problem is those signs haven't all shown up in the same game.
Photo Gallery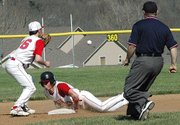 LHS baseball splits with Santa Fe Trail
Everything came together Monday in the second game of a home doubleheader against Santa Fe Trail, however. After losing the opener, 2-0, LHS jelled and turned in a solid all-around performance while winning the nightcap, 9-6.
The win snapped Lansing's five-game losing streak and it gave the Lions a quality victory over a previously unbeaten opponent.
"It gives us lots of confidence," said sophomore Taylor Majure. "After starting the season 2-5, it feels good to come back and win against a good team."
Lansing played flawless defense in game one, but the bats didn't click.
The Lions (3-5) took advantage of their opportunities in the second game. The Chargers (7-1) took a 2-0 lead in the top of the first, but the Lions responded quickly with three runs in the bottom of the inning. Majure led off with a single, Tylor McNeill walked and Johnny Stratton sliced a double to left that plated Majure. A sacrifice fly by Kyle Miller and a ground ball by Kris Hernandez brought home two more runs and put the Lions on top.
Lansing extended its lead in the third when it scored five more runs. After loading the bases with one out, a Chris Grady walk brought home a run, Elias Moya's two-run single scored two more, and Peter Gibson's two-run triple extended the lead to 8-2.