Lions clock fast times at Basehor
Basehor — It has been a few years since Lansing High track coach Errol Logue has had the opportunity to carry home a trophy after a meet.
The drought ended Tuesday night at the Bobcat Relays when the LHS boys placed second as a team and had medalists in 10 events.
Photo Gallery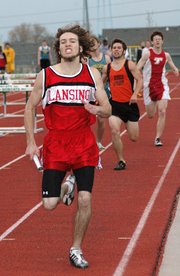 LHS track team competes at Bobcat Relays
The Lansing girls placed fourth and had eight medalists.
"This is the first time in several years that we've had some kids that I think could compete anywhere," Logue said. "It was a good meet because we had a lot of kids place and score, but we also had some performances that are real promising all the way through the season. It's been several years since we've had something like that."
Lansing's top performances of the day came from junior Bobby Hauver and senior Adam Vordermark. Hauver won the pole vault with a clearance of 11-0, just ahead of teammate Jarred McLaurin's third-place jump of 10-0. Hauver also placed second in the 400-meter dash in 54.25. Vordermark edged Hauver for first place in that race in 53.33. Vordermark also anchored the 3,200-meter relay team to a first-place finish with teammates Wes Appleget, Griffin Davis and Brandon Mills and then ran the anchor leg of the winning 1,600-meter relay team that included Hauver, Brenton Smith and Jason Swisher.
"Adam is a real talent," Logue said. "He's shown in practice that he's a talent, and of course he showed that tonight."
Other medalist honors for Lansing went to second-place finisher Will Johnson (triple jump, 40-11 3/4), third-place finisher Brenton Smith (200 meters, 24.01), the first-place throwers relay (48.68) and 3,200-meter champion Brandon Craig (10:52.43).
The girls' day was highlighted by the 400-meter relay team's first-place finish as freshmen Madison Brandt and Jennifer Totleben, sophomore Michelle Collins and senior Riann Deere scorched the track in 53.26 seconds.
Collins placed second in the 100-meter dash in 13.46 and Totleben was third in 13.54. Deere placed third in the 200 in 27.49. Senior Erin Rogers placed second in the pole vault with a clearance of 8-0. Freshman Lauren Jaqua also added a pair of runner-up finishes in the 800 (2:39.64) and 1,600 (5:47.39. Freshman Sarah Nielsen narrowly missed a top-three finish in the 800 as she placed fourth in 2:41.94.
The girls' 1,600-meter relay team of Brandt, Deere, Jaqua and senior Kara Ritchey closed out the meet with a third-place finish in 4:36.31.
Although the Lansing athletes' performances were impressive for a smaller local meet, Logue said some of those marks would hold their own against anybody anywhere in Kansas.
"With some of these you feel like you can put together something and may go all the way and even have a chance of doing something good at state," he said.
Lansing next competes at 4 p.m. today at the Louisburg Invitational.