Med student learning practical lessons at Lansing practice
Medical student Joshua Max is spending time this spring in the office of Lansing physician Jeffrey Lawhead, where he's receiving lessons that transcend the science of medicine.
"Dr. Lawhead said on our first day that he wanted to teach us a lot about the practical side of medicine, not just the science side of medicine, which we learned in the first two years of medical school," said Max, who is studying medicine at the University of Kansas.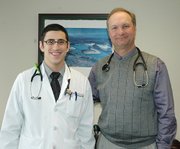 Lawhead said he enjoyed teaching KU medical students about the importance of practicing rural medicine in Kansas. The Kansas Rural Preceptor Program allows rural doctors like Lawhead to teach medical students the differences of practicing medicine in a rural community.
Lawhead has practiced medicine in Lansing for almost 17 1/2 years, which is approximately the same amount of time he has participated in the Preceptor Program. Lawhead teaches one to two students a year in the Preceptor Program.
The Preceptor Program is affiliated with the University of Kansas Medical School. Dr. Franklin Murphy, who was the Dean of the school in 1951, founded the Kansas Rural Preceptor Program. The Preceptor Program was created to teach students about medical practice in rural Kansas' communities and to incite interest in students about rural medicine.
The state of Kansas has designated areas that are considered rural.
The program is placed in areas "to try to infuse or create interest in physicians for them to go back or involve themselves in a rural setting," Lawhead said. The Leavenworth area is considered rural.
Lawhead said that most students who participate in the Program have a positive experience. The Program allows students to see the different aspects that medical practice in a rural setting has to offer.
After serving in rural communities, some students have returned to practice medicine in the towns they worked in originally.
"It's not a hindrance to be in a rural setting," Lawhead said. "Personally, I see it as more of an advantage to be in a rural setting. We have the ability to have a better rapport with our patients."
Because Lawhead grew up in rural Kansas - the town of Parker - he understands that many patients have to drive at least 20 minutes to get to a doctor.
"I appreciate people's time and their efforts to get here. We try to take care of all of their issues and their concerns while they are here," Lawhead said.
Lawhead said that he thinks the rural Preceptor Program gives students a more complete view of medicine.
"When I went through school, it was a requirement that you do some sort of a rural preceptorship, and I did my two in a more western area of the state," Lawhead said.
Lawhead said the preceptorship helped him learn to appreciate the different challenges that doctor's face in a rural city.
"It gives you a different idea of the practice of medicine and family care. Our rapport here is excellent with our patients because we get to know the entire family. We know the grandma, the mom, the sons, the daughters, and many times, the grandchildren. We have that ability to maintain that continuity, where in the city, you might go to a pediatrician, a geriatrician or an internist. There is not the same continuity with the family that we see out here in a rural setting."
"I think part of it is understanding how the resources are different," Max said.
Max also said Lawhead does not have a typical rural practice.
"Dr. Lawhead has an MRI machine, X-rays, and an echo machine" that many rural doctors do not, Max said.
Max said that it was important for medical students to understand rural medicine even if they work in an urban setting because they need to understand rural patients when they are referred to them.
"I do not feel in any way that I have to practice at a deficit here in Leavenworth," Lawhead said. "Our practice was the very first practice to introduce an open MRI to our community. Patients don't have to drive 30 to 45 minuets to get an MRI."
Lawhead said his practice was considering the possibility of going mobile and providing some medical services in other physicians offices. This advancement, as well as others, makes the clinic quite progressive, Lawhead said.
Max said there little that would cause a patient to have to travel to Kansas City to get that could not be obtaind at Lawhead's practice.
"That is something that I am very impressed by," Max said.
"You don't have to be in an urban setting to be progressive. You can do that in a rural setting and do it quite well," Lawhead said.