Reading specialist to retire
At 12:30 p.m. on Tuesday, Debbie Coleman, Lansing Elementary School's reading specialist, sat in a two-foot high chair with first-grader Alysa Wals to read "New Glasses for Max."
At 1 p.m. and every half hour during the school day she met with other first-graders, because she knows - and she can see - she's making a difference.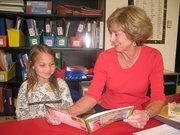 After 18 years teaching, including nine years as a Title 1 reading teacher, Coleman is retiring.
"I love this, it's the most rewarding job," she said of the one-on-one time she spends with her students in the Reading Recovery Program.
Reading Recovery is a 20-week intensive reading and writing intervention program designed to help reduce the number of first-graders who have extreme reading difficulty.
Coleman substituted for five years at Lansing Elementary School before she was hired as a Title 1 teacher in 1998 and taught third-graders reading and math. She trained for two years in Kansas City, Mo., to become a reading specialist.
Though she loves the individual attention she can give children, she said it took a lot out of her because she worried about her students succeeding.
Success usually has been on her side. She said Reading Recovery has proven to work in its 20 years. Much of the success has come from parent cooperation, too.
As Wals read her book out loud, Coleman checked the words the student pronounced correctly. After school, Wals would take her book home and practice reading it to her parents.
"I've been lucky to have great parents," she said. "The program won't work if they don't listen to their children read at night. It reinforces what I do here."
Coleman said it was time for her to try something new and visit her own children, twin boys who live in the state and another son who lives in Dallas with a child of his own.
"Life's too short," she said.
She said she planned to golf, volunteer, garden and spend more time with her husband, Tom, who works for Cubic Applications.
"The staff is so supportive, I'll really miss all of them," she said. She also said Lansing Elementary Principal Tim Newton was the best she's seen at the school.
"He really turned the school around," she said.
Newton said he was sorry to see Coleman go, but said she had earned her retirement.
"One thing I'll aways remember her by is that she always has a positive outlook," Newton said. "She'll be a hard person to replace."
A retirement party for Coleman is scheduled at the school's library at 3:30 p.m. Thursday, April 26.