LHS

baseball makes it 3 straight with sweep of Perry
Miller homers twice as Lions win two
The Lansing High baseball team extended its winning streak to three games Thursday with a doubleheader sweep of Perry-Lecompton at LHS Field.
The Lions won the opener, 12-2, and then claimed an 11-7 victory in the nightcap.
"The defense played well; we hit the ball well," LHS coach Troy Andrews said. "I don't think Kyle Miller got out all night."
Photo Gallery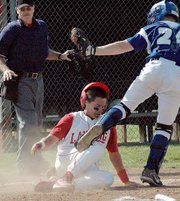 LHS baseball sweeps Perry
Miller, Lansing's senior third baseman, slugged a pair of home runs in the sweep.
Johnny Stratton reached base on an error and scored on a Miller single in the first inning of game one, but Perry used a pair of singles and an error to take a 2-1 lead in the top of the second.
After making solid contact with little to show for it in the early innings, Lansing strung some hits together in the third inning. Miller's first homer came during that time as LHS went up 4-2. The hits were continuous during the next few innings, and the Lions earned the run-rule victory in five innings.
"We started controlling the game a little bit more with the bat, stealing some more bases, and that put a little more pressure on them," Andrews said.
Sophomore Taylor Majure was slated to start on the mound in game two, but he pulled a muscle in his back and junior Kris Hernandez made the start on short notice. Despite not having time to prepare, Hernandez didn't disappoint.
"He did real well," Andrews said. "He threw five strong innings, and then Kyle Hutchison came in and kind of closed the door on them."
Perry capitalized on a few early errors and built a 4-2 lead. The Lansing defense regrouped, however, and the bats eventually came around. Miller slugged his second homer and sophomore Peter Gibson laced a few hits that brought home runs.
"It took us a little while to get rolling, and (the Kaws) were pretty up with having only one win and being ahead," Andrews said. "But we didn't panic. Sometimes you panic and start pressing at the plate and swinging at bad pitches, but we didn't do that. We were patient, and we put the bat on the ball and eventually they started falling."
With its record back at the .500 mark and 2-2 in the Kaw Valley League, Lansing will try to add to its winning streak at 4 p.m. Monday when it plays Basehor-Linwood at Mid-America Sports Complex.