Lansing runs winning streak to 5
4-time state champs up next on schedule
That five-game losing streak seems like ancient history for the Lansing High baseball team.
After sweeping Immaculata in the season-opener and then losing five consecutive games, Lansing now has won five in a row. The most recent victories came Monday against Basehor-Linwood, 11-5 and 13-2.
Photo Gallery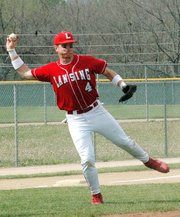 LHS varsity baseball sweeps Basehor
"We turned it right around," LHS coach Troy Andrews said, lauding his young squad's resiliency.
Lansing (7-5 overall, 3-2 Kaw Valley League) needed the momentum to prepare for a 4 p.m. home doubleheader today against four-time defending Class 4A state champion Bishop Ward. Ward, ranked No. 1 in the state in 4A, knocked off Class 6A No. 1 Lawrence Free State, 7-5, on Saturday.
Andrews said he expects his team to see the Ward game as an opportunity to improve, not as a pair of losses waiting to happen.
"I challenged the guys after the game to go into Ward and have a little pride in ourselves and go out there and see what you can do against a really quality opponent," Andrews said. "There's no pressure. We're supposed to get run-ruled, so lets go see what we can do. It's a good opportunity for us to challenge ourselves and go out there and turn it loose."
Lansing definitely turned it loose against Basehor on Monday. After a slow start that saw the Bobcats lead 2-1 after four innings, the Lions erupted for five runs in the fifth inning of game one. They plated four more runs in the sixth inning and another in the seventh to secure the victory. Matt McMillin threw a complete game, struck out nine, walked four and allowed six hits.
Kyle Miller pounded two triples in the victory. Kris Hernandez, Chris Grady, Elias Moya and Kyle Hutchison each added two hits. LHS had 12 stolen bases in game one, including four by Hernandez.
Taylor Majure threw a complete game and struck out six in the nightcap. Both of Basehor's runs came in the first two innings, and both were unearned. LHS exploded for seven runs in the top of the third inning and never relinquished control after that.
McNeill and Grady both had two hits to lead the Lansing offense.