Leavenworth woman arrested after traffic fatality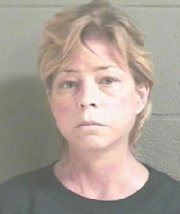 Leavenworth — Leavenworth police arrested Julie Heise, 44, Wednesday afternoon for involuntary manslaughter after a traffic accident resulted in the death of Lee Ann Orndorff, 41, of Lansing.
According to Leavenworth Police Maj. Patrick Kitchens, Heise was driving northbound on Shrine Park Road at 9:30 p.m. on Friday, April 21, crossed the center line and struck on oncoming car causing it to veer head-on into Orndorff's vehicle. Kitchens said Orndorff was declared dead on the scene.
Heise was taken to Cushing Memorial Hospital for minor injuries. Kitchens said he suspected Heise was driving while impaired. A blood examination taken at the hospital determined her blood alcohol level was .179.
The case will continue under Leavenworth County Attorney Frank Kohl.