Vocalists, musicians head to state
Lansing High School students Colleen Archibald, junior, and Megan Wood, junior, have tasted sweet notes of victory.
Both students learned they will be the band's drum majors next year and they also earned 1 rankings at the Regional Music Festival earlier this month, which qualifies them for the State Music Festival on Saturday, April 28, at Newton High School.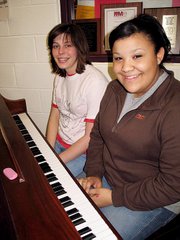 In all, Archibald, Wood and five other soloists, two ensembles and two band soloists will be competing at state.
Jonnie Brice, choir director, said the judging at the regional competition is increasingly more difficult, which means fewer students are making it to state.
The challenge is good for the students, she said, but sometimes they experience that the judges at state are easier.
Wood said the judging at the regional festival was "brutal." She and the other students prepared before, after and during class for the regional competition.
Wood said singing by herself makes her feel free, and when she's in front of others it's an adrenaline rush.
"Singing is like chocolate," Wood said. "That feeling of euphoria, that's what I get when I sing."
Archibald who sang with the Loyal Lansingers during elementary school, sang with an ensemble at regionals previously, but this was her first time performing a solo.
Soloists sing two songs and the ensembles and instrumentalists perform one at state.