Manago, Dillon push
LHS

past De Soto in second half
Lions improve to 9-2; Tonganoxie is up next
De Soto — Check off De Soto on the Lansing High girls soccer team's list of opponents standing between it and a high seed in the Class 5-1A regional playoffs.
Lansing's only losses this season came to non-league foes Blue Valley West and Olathe Northwest - both Class 6A schools, and 4A foe De Soto hoped to join that short list of teams to be victorious against LHS this season.
That didn't happen Thursday evening, but it took a pair of second-half goals for the Lions to claim a 2-0 victory at DHS.
Photo Gallery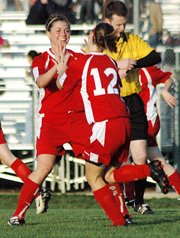 LHS soccer drops De Soto, 2-0
Lansing outshot De Soto 8-2 during the first half but failed to convert on its attempts. In fact, De Soto senior Jeni Hill came the closest to putting away a shot during the half when she drilled the left post in the 37th minute. After that close call, the Lions finally woke up.
"At halftime we just said, 'Hey, we've got to get this together. We can win this,'" senior defender Abby Hauver said.
And that's exactly what the Lions did. Less than two minutes into the second half junior midfielder Rachel Pride fed a pass to senior forward Bianca Manago about 20 yards out. Manago gathered the ball, wheeled and fired a perfectly placed shot that arched over DHS goalkeeper Megen Bedford and nose-dived under the crossbar for a goal.
Lansing continued to generate strong attacks for the remainder of the half. The difference was noticeable as the Lions began stringing passes together and dictating the tempo with good ball control.
"Rachel and I were connecting more passes together. It goes a lot better when the center midfielders are more in line with each other," freshman midfielder Allison Dillon said, explaining why the offense looked so much smoother in the second half.
Dillon was on the receiving end of one of those good passes in the 63rd minute when Pride slipped a pass through to her about 18 yards out. Dillon turned, took a few dribbles toward the goal and fired a shot that clipped a defender and continued into the net for a 2-0 lead.
The goal was Dillon's second in two games after coming close on numerous occasions earlier in the season.
"I've done pretty well the last couple games with the help of my teammates," she said with a smile.
Junior goalkeeper Katie Nietzke made six saves while collecting her seventh shutout of the season.
LHS (9-2 overall, 4-0 Kaw Valley League) next plays at 6 p.m. Monday at Tonganoxie. The Chieftains are a first-year program, but Hauver said that is no excuse to overlook them.
"With first-year teams you just never know what to expect," she said. "They can surprise you with anything."
LANSING JV 2, DE SOTO 0
Photo Gallery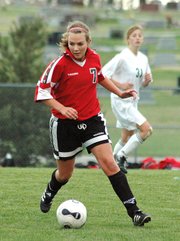 LHS JV soccer defeats De Soto
The Lansing High junior varsity girls dominated their game against De Soto in a 2-0 victory.
Freshman Anisha Patel scored Lansing's first goal, and senior Heidi Schultz buried the second moments before halftime to provide a cozy cushion.
Lansing held De Soto without a shot in the second half and had numerous opportunities to extend the lead, but LHS was unable to convert on its scoring chances.
Freshmen Ashley Harrington and Tayler Dumlao combined for the shutout.