LHS

track competes at Gardner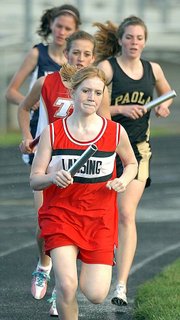 The Lansing High track team sent a partial squad to the Gardner Invitational on Friday at Gardner-Edgerton High School, and the Lions had top-six finishes in six events.
Junior Alex Twitchel was the top placer for the LHS boys. He placed fourth in the triple jump with a distance of 38 feet, 1 inch.
Also for the boys, freshman Brandon Craig placed fifth in the 1,600-meter run in 4:58.35. In addition, Craig teamed with Jim Mayes, Griffin Davis and Brandon Mills to place fifth in the 3,200-meter relay in 9:18.61.
Freshman Lauren Jaqua highlighted the Lansing girls' day with a runner-up finish in the 1,600 in 5:48.45. Cali George of Gardner won the race in 5:10.74. Fellow Lansing freshman Sarah Nielsen placed fifth in the event in 6:11.18.
Senior Riann Deere placed fifth in the 200-meter dash in 28.03.
The 3,200-meter relay team also placed fourth.