Late slide hurts Cavalry
Infield shakeup, errors take toll after hot start to summer season
After a scorching start to the summer, the Lansing Cavalry baseball team closed out is season quietly with a 14-0 loss to the Blue Valley Northwest Huskies in the American Legion Class AAA Zone Tournament on Thursday evening at Lansing High.
The Cavalry lost their Zone opener 24 hours earlier with a 14-4 loss to Olathe South.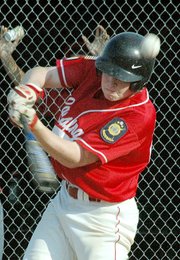 In all, the Cavalry (22-10) lost five of their final eight games after winning 19 of their first 24. Still, coach Jake Hanson put the season into perspective.
"We just peaked at the wrong time," he said. "We played really well in June, and we beat some really good teams in June. We beat a good Olathe East team, we beat Piper and St. Joe.
"When we started playing better quality teams at the end of July, we didn't play well. Coincidence or not, losing our top two hitters with Kyle Miller and Tylor McNeill didn't help."
Miller, a first-team All-State player during the high school season, led the Cavalry in hitting before leaving town at the end of June to report to the Air Force Academy. McNeill picked up the slack at the plate, but late in the summer he was sidelined with a hamstring injury.
The loss of McNeill meant that Lansing was forced to play without a deceptively quick player who also was its most experienced outfielder. Miller's absence was the most difficult one to overcome, however. Although he was the team's most dangerous hitter, his glove was the hardest thing to replace because no Cavalry player was quite able to fill the two-year starter's shoes at third base.
"It may be the most difficult position other than catcher to play in high school because you do see a lot of hot shots, and then there's the long throw," Hanson said. "Kyle did a great job for us. We have several guys over there (trying to fill in). Jeff Terrill did a great job for us when he was there, but he was also pitching so he couldn't do it all the time. Then we really had errors all over the place in July, and that hurts you."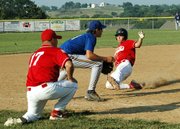 "Error" was the defining word of the last few weeks of the Cavalry's season. Hanson said his team committed numerous costly miscues down the stretch, including nine in the loss to Olathe South.
Infield errors were the only troubling area Hanson saw this summer. He said the made major improvements running the bases.
"We made a commitment at the beginning of the school year to be real aggressive on the basepaths," Hanson said. "We were able to steal over 130 bases in the 30 games we played this summer, so we were able to steal about four bases per game."
Pitching also was a strong point. Seniors-to-be Kris Hernandez and Johnny Stratton both posted 5-0 records, and junior-to-be Taylor Majure had the squad's lowest earned run average.
"That gives us some confidence going into the school year," Hanson said.
Hanson also said he was pleased with Lansing's hitting for the most part. He said he was particularly pleased that new Lansing High coach Harley Douglas had the opportunity to work with players this summer and help them with their hitting.
"It was good that coach Douglas was able to see and be with the team, because now he has a better idea of what to expect and the kids will know what to expect from him," Hanson said.