Olathe East rocks Lansing
The boys grew up a little bit this summer; Lansing Cubs baseball coach Michael Smith is certain about that.
The squad's 4-27 record might not show it, but Smith is confident the Cubs made some serious strides during the past few months.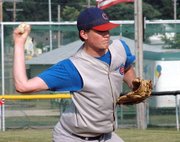 The record is deceiving, Smith said, because the Cubs played opponents that for the most part were older and more experienced than his players. That was evident at the American Legion Class AAA Zone Tournament in Ottawa where the Cubs lost their opener to Gardner, 32-0, and then were rocked by Olathe East, 40-1.
"Their guy was throwing about 92 (miles per hour)," Smith said of the East starter. "He was bringing it. He was really humming."
But consider Gardner's squad consisted of the Gardner-Edgerton High School varsity team. Same for Olathe East, which went 19-4 and advanced to the Class 6A state tournament during the high school season. Meanwhile, half of the Cubs' roster was 15 years old, and most had no varsity baseball experience. That should have landed the Cubs in a Class A tournament, but a handful of 18-year-olds on the roster bumped them into the Class AAA division. That won't be a problem next year, Smith said.
"Next year we'll be a lower division, and with the talent we have coming back we should be fine," he said, noting that the Cubs should compete in Class A or AA next summer.
It is the possibilities of next summer that has Smith feeling giddy when he thinks about the team's future. He looks at the list of players he will have returning - Greg List, Tyler Mecum, Mike Sherman, Travis Denney, Jacob Hansen, Mac Reyes, Dylan Delich, Billy Kidder, Jake Reynolds, and possibly Jason Wahaus. In that group, Smith sees a talented bunch that was in over its head this year. In that group, however, he also sees players that are wiser, hungrier and more prepared thanks to the experience they gained this summer.
"That gives us a good nucleus of 10 players there," Smith said. "Next year I guarantee we'll be 100 percent better; we'll be double-digits in wins. We sat down after the game and talked, and Brett (Horseman) is going to work with the pitchers in the winter. We never really had a problem with the bats, and Phillip (Smith) is going to work with them on that and keep them going. But fundamentally, I think they improved 100 percent. They're getting better, and next year we should be fine."