Political interests grow with age
It's not about being a Republican or a Democrat right now for Andrew Cameron; it's about being informed and taking the opportunity to learn.
Cameron, 19, is a 2006 Lansing High graduate who has had many opportunities in the past year to meet some the country's most influential politicians during the ever-growing and heated 2008 presidential race.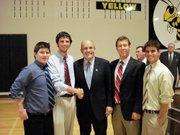 While attending Creighton University in Omaha, Neb., Cameron has found himself across the river in Iowa, where many presidential hopefuls have focused their attention in preparation for the first-in-the-nation presidential caucuses.
Cameron said he felt lucky to be going to school at Creighton and able to take advantage of its close proximity to so much political activity. It's not every day someone gets the chance to hear people like Rudolph Giuliani, R-N.Y., and Sen. Barack Obama, D-Ill., speak in person, Cameraon said.
Even though Cameron chose pre-med rather than political science for a major, it hasn't stopped his interest in politics.
"I feel it's my responsibility as the younger generation to know what's going on around the country," he said. "It's fascinating to see the leaders of our country in person."
Growing up, Cameron can remember watching the president on television, but now he said he is getting of the age where he can understand issues and wants to learn more about the way national policies take hold in the United States.
Cameron is technically part of the College Republicans group but said he was more in the middle ground and planned to get on the mailing list of the Young Democrats. He said he liked informing himself about both sides on an issue before making an opinion.
During his visits to Iowa, Cameron heard Obama speak during a public forum. Cameron said there were hundreds of people attending the high-energy event.
When Giuliani, the former New York mayor, came to speak, Cameron actually worked the event and helped with setting up and taking down the private-invitation site. He sat front and center during the speech, but the best part came afterward when Giuliani came to meet the people who helped at the event.
Cameron said it was great hearing such major candidates from both sides speak but said he was surprised by their similarities. Both were more conservative on some issues but there were other issues when they both took a liberal stance on, he said.
He's heard that Mitt Romney, R-Mass., and Hilary Clinton, D-N.Y., also have plans to visit Iowa to speak, which Cameron said he is sure to attend. He would also like to see some of the candidates that are not considered by many as forerunners.
It's too far away to say whom Cameron will support when it comes time to vote, but until then, he said he looks forward to more opportunities to learn from the people who influence so many aspects of the country.