American Dream
6 years after leaving Lansing, Fardelmann eyes opportunity to represent United States
As Meghan Fardelmann prepares to depart for Lake Placid, N.Y., for the United States Women's Hockey Under-22 Select Team tryouts, she looks back at one of the most difficult decisions she ever had to make in her life: leaving Lansing behind.
For Fardelmann, the tryouts represent an opportunity to find out where she stands among the best players in America and - possibly - to represent her country.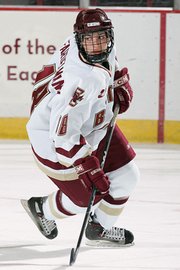 She sees how far she's come since deciding to head off on her own six years ago and chase her hockey dreams, and she is confident she made the right decision.
"It definitely was a big decision, but I think I'm better off for it as far as my hockey career," she said. "I made the decision that this is what I want to do, and just getting an invitation to the U-22 tryouts is the next step."
Fardelmann views her rise in the hockey world as a series of steps. The first of those was making the decision as a 14-year-old to forego Lansing High and instead move to Culver, Ind., to attend Culver Girls Academy, a prep school that provided her the opportunity to play ice hockey in high school.
While at Culver, Fardelmann earned all-conference honors in soccer and was an honorable mention All-American in lacrosse. She also was a four-year starter in hockey and was a three-time participant at the Lake Placid National Festival. Although she was successful in multiple sports, her hockey aspirations continued to get the best of her when she eyed her college options. She was heavily recruited by Dartmouth, Brown, Yale and Ohio State before ultimately deciding on Boston College.
As a freshman, she finished fourth on the team in points after scoring nine goals to go with 10 assists. As a sophomore she upped her offensive production to 24 goals and 14 assists, was named Most Valuable Player of the Beanpot Tournament, earned Hockey East Player of the Week honors three times and scored the game-winning goal against Dartmouth in double-overtime that propelled Boston College to its first Frozen Four appearance.
Fardelmann's summer consisted of calculus and conditioning until she received an e-mail on July 23 announcing that 66 players had been invited to participate in the 2007 USA Hockey Women's National Festival. Of those 66, 22 made up the Under-18 Select Team. Meanwhile, 27 - including Fardelmann - would compete for 22 spots on the Under-22 Select Team. The other 17 are former Olympians and members of the 2007 U.S. Women's National Team that won the silver medal at the world championships.
"I've been to the national select festivals, which are basically development camps," Fardelmann said. "But this is my first national camp, so it's kind of exciting."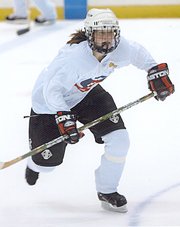 The festival will take place Aug. 14-21. If Fardelmann makes the cut, she and her U.S. teammates will play host to a three-game series with Canada on Aug. 23-26 at the United States Olympic Center.
Fardelmann said players already have received numbers determining who they'll match up against. Her draw is three-time Olympian Jenny Potter.
"I'm going to be standing there in a face-off circle next to her, and I'm probably going to faint," Fardelmann said with a laugh.
Fortunately for Fardelmann, she won't be starstruck by everybody she sees. Five of her Boston College teammates also were selected to try out for the U-22 squad; that's more than national champion Wisconsin, which is sending five players to the tryouts.
"I was kind of surprised when I looked at the roster, because I know quite a few girls on the U-22 tryout roster from high school and college," she said.
Fardelmann admitted she is a bit nervous about tryouts, but she said that regardless of how it goes she hopes she walks away as an improved player.
"It should be the toughest competition I've ever seen to date," she said. "But if I go in well prepared, then I should be in at least competitive shape. I don't think anything's really a guarantee at this point.
"This is just the next step," she added. "It's always smaller and smaller steps. The field's just gotten so narrow now that it's down to this national festival of the 66 top girls in the country in our age group. It's more exciting."