The Marching Lions
LHS

band members brave the heat for early season practices
The scorching 90-degree temperatures and high humidity haven't been able to stop members of the Lansing High School marching band.
While fanning themselves with rolled up sheet music, students moved in single-line formations across the school's practice field Friday preparing the routine they will use in their halftime show during the first football game of the season.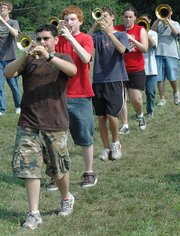 Every year, students in the marching band dust off their instruments two weeks before the first day of classes and begin grueling all-day practices to ensure their performance is ready for the fast-approaching first game.
Luke Johnson, band director, said the students and staff wouldn't have enough time to prepare a performance for the first game without band camp. He said the half-time show was more than just remembering where to stand on the field. Students are required to memorize their music and then combine the songs with an intricate set of formations.
Despite all the hard work and heat that comes with band camp, Johnson said all of the students seemed enthusiastic about this year's program. The show, entitled "Rock the House," will include songs such as "Rebel Yell" by Billy Idol, "Mr. Roboto" by Styx and "Turn Turn Turn" by The Byrds.
But, Johnson said, the best part of the experience comes as the band takes the field for the first time. He said that's when all the learning comes together and both he and the students feel the reward of having an audience enjoy a performance they put so much work into.
That's also what Edwin Fluevog, 17, said he was looking forward to the most. The Lansing High senior said walking on to the field in front of an audience gave him a rush like no other. He said knowing all of the audience's eyes were on the band, made him feel like the "coolest person."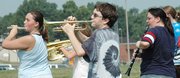 Fluevog will play baritone this year and is also a section leader. During band camp, he's been working with the trumpet section on basic marching form as well as making sure the music sounds right.
He said that band camp was necessary to get everyone ready. So far, both the novice and veteran marchers seem to be catching on to the routine quickly, he said, only adding to his excitement for the first performance.
For Lindsy Whitlow, band is a time to hang out with a special group of friends. Even her dislike of the uniforms the band wears isn't enough to take away from the fun she has with what she calls her "family of friends."
Since starting band in the sixth grade, Whitlow said she was automatically given a group of people she can learn with and trust. Any stigma that might go along with being in band doesn't matter, she said, because everyone seems to fit in together so well.
But it's not all play and no work for Whitlow. As a section leader of the flutes, she has been keeping busy during band camp. From leading sectional practices, to teaching marching, to just setting a good example, she said it's been fun but a lot harder than she expected.
One new addition brought in this year to help has been a Kansas State University student to work specifically with the drum line. Johnson said that Blake Vignery, a fifth year student in music education, came highly recommended.
Vignery volunteered his time for the first week of band camp because he said he "can't get enough of drum line" and loves to teach others. Throughout his own education he said many people had influenced him and he wanted to be able to pass that knowledge along to other young musicians.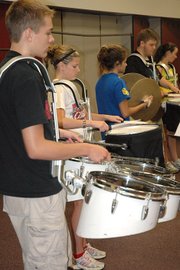 So far the students have all been hard workers with great attitudes, he said. Besides being impressed with the talent and progress he's seen over the last week, Vignery said he looks forward to coming back and seeing just how much they flourish.
Matt Lorenzen, 15, is in his first year with the drum line and said that Vignery's instruction has been helpful. In addition to help with marching, Lorenzen said that Vignery has taught them a lot about reading music and special techniques.
"He knows everything there is to know about every drum," Lorenzen said.
After camp, the band will continue rehearsing during its regular scheduled class period. Their first performance will be at the school's season-opener on Friday, August 31 at 7 p.m. against Tonganoxie at the Lasing High football field.