McNeill to play baseball at Washburn
Those who know Tylor McNeill best will tell you he doesn't take a lot of things seriously.
He has long been known as a cut-up with a passion for sarcasm, whether he's hanging out with friends on the weekend or walking the halls at Lansing High.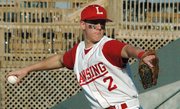 The sense of humor screeches to a halt on the baseball field, however. That's about the only place the 2007 LHS graduate is all business, and it's his serious attitude about the game that helped him earn a spot on the baseball team at NCAA Division II Washburn University in Topeka.
Of course, even McNeill will tell you he hasn't always been that serious about baseball. His conversion took place last fall.
"I was playing fall ball, and I started thinking that this would be my last spring," he said. "I decided I wanted to make the most of it and see how far I could go with my baseball talent. I didn't want to sit back and see if I got any looks (from colleges). I wanted to see what I could turn myself into and see how far I could go."
McNeill played fall baseball with Air Force baseball signee and fellow LHS senior Kyle Miller. The two shared common baseball goals, and they eventually became training partners.
"Once I saw his dedication, I realized how much I cared about the game and that I didn't want my baseball career to end after high school," McNeill said. "We weren't really friends until the end of October, and then we started hanging out after fall ball and working out, and we made each other better baseball players."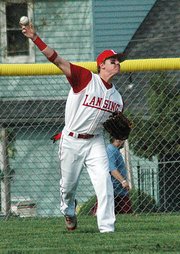 McNeill and Miller were two of Lansing's top hitters during the high school season, and McNeill had the best arm in the outfield.
Stats were the prime similarity the two had. Their biggest difference was that Miller already knew where he was going to play in college. McNeill didn't.
McNeill nearly committed to schools on multiple occasions during the late spring and early summer, but he never found the right fit. That weighed on him as the summer dragged on.
"I'd wake up every day with a little pit in my stomach because I never knew where I was going to go," he said. "Every day it was getting later and later and closer to school starting, and I didn't have a place to go."
That's when Harley Douglas showed up. Douglas was hired late in the spring to become the new head baseball coach at LHS. He began working with McNeill's summer American Legion team, the Lansing Cavalry. After a conversation with McNeill, Douglas picked up the phone and gave McNeill's college plans a new direction. A former standout outfielder at Washburn, Douglas called his former coach, Steve Anson, and landed McNeill a tryout. Washburn had a late opening for an outfielder, and the rest is history.
"Coach Douglas : I owe everything to him," McNeill said. "He came in one day after practice and took charge and said, 'Where do you want to go?'"
Douglas said recommending McNeill was a no-brainer.
"He has a good arm and covers the outfield well," Douglas said. "He'll develop into a hitter more as he gets older, but he already hits well at the plate. Once he develops to where he can hit to all fields he's going to be a tough out."
McNeill also credits former LHS baseball player and Lansing Cubs assistant coach Phillip Smith for making him move to the outfield two years ago.
"At first I hated the outfield," McNeill admitted. "I was fat and couldn't run around and make plays. But once I got in shape I could run around and catch balls. I love the outfield now."
McNeill said Anson indicated he would compete for a starting spot in the outfield during his first year. McNeill said he's excited about the opportunity, and he said he is ready to prove he belongs.
"I feel like I'm still not even half the player that I want to become," he said. "I feel like Washburn can make me a lot better of a player, and I want to see how far I can go with this."