Rising temps hold strong
Upper 90s to continue into next week
Don Welks is a man who likes the summer's heat.
With the sun beating down, the Leavenworth man, who grew up before cars and houses were air conditioned, said Tuesday that he welcomed the heat and wouldn't let it stop him from enjoying fishing and golfing.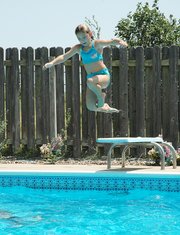 But for most people, the past week of upper 90-degree temperatures and humidity that feels like you've hit a wall the minute you walk outside is becoming a serious concern.
The National Weather Service has issued an "excessive heat warning" for much of eastern Kansas and into parts of Missouri.
Evan Bookbinder, lead meteorologist for the National Weather Service office in Kansas City and Pleasant Hill, Mo., said residents should expect to see the upper 90-degree temperatures continue into next week with heat indices ranging from 105 to 108 degrees.
Bookbinder said anytime the heat index, which combines air temperature and relative humidity to determine an apparent temperature, reaches 105 for longer than three days, a warning is issued so area governments can take action to prevent any heat-related illnesses or deaths.
So far this year, Kansas has had one heat-related fatality. Joe Blubaugh, director of communications of the Kansas Department of Health and Environment, said the individual who died was over 65-years-old and lived in northeast Kansas.
While family members are not required to report heat-related deaths to the health department, Blubaugh said death certificates are checked regularly to get an accurate account of the necessity of further heat warnings.
As of now, no heat shelters have been set up in Leavenworth County. Mike Smith, Lansing city administrator, said if high temperatures persisted for more than five to six days, the idea to open up the community center in the basement of City Hall might be considered.
He said while the city has never had to address a heat-related crisis, it was something that he wanted to look at more seriously.
What concerns Bookbinder is that temperatures at night are remaining in the 70s and sometimes 80s. He said that meant that people's bodies weren't getting enough relief to allow themselves to recuperate each day.
For now, he suggested that people, especially those over the age of 65, young children and those with chronic medical conditions, stay indoors. He said to drink a lot of non-alcoholic and non-caffeinated fluids and use common sense when it came to outdoor activities.
As a way to fight the heat, Jinny Blakely, Lansing, has been opening her backyard pool to her grandchildren and their neighborhood friends. Six children alternated Tuesday afternoon between swimming in the pool and resting inside eating cookies.
While sitting in the shade of an umbrella, Blakely watched her young guests keep cool in the pool's bright, blue water. She said she hadn't heard of a heat warning in the county but just invited the kids over because she thought it would be a fun way for them to spend the last few days before school started when it was too hot to do anything else outside.
Welks spent part of his day Tuesday by the lakeside of Lost 80 Park fishing. Decked out in a hat and sunglasses, Welks used the shade of a nearby tree to keep him cool.
Despite the fact that he said the heat doesn't bother him, he said he's noticed that many of his friends won't join him fishing because they say it's too hot. He said he doesn't know why people complain about the heat so much. Too him, anything's better than snow, because then at least he knows the fish will still be biting.