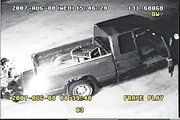 Police are asking for help to identify the persons who broke into The Tractor Store, 105 W. Gilman, Wednesday, Aug. 8 and stole four ATVs.
Three unknown white males used a 90s model, maroon, extended cab truck to force open the store's security gate around 4:40 a.m.
The four stolen ATVs and damage to the gate had an estimated value of $7,589.
The suspect's vehicle is believed to have aftermarket rims and bed rails. It is also believed to have damage on both sides due to forcing the gate open.
Anyone with information is asked to contact Detective Crawford at 727-3000.