County Fair successful despite heat
Richard Parker finally got a break as Saturday's derby drew closer to an end.
Parker, who can't remember if he's worked during the fair for the last 20 or 25 years jokingly, said he began working at the fair after he took over for Moses.
Over the years he has watched it grow into the fair it is today.
Photo Gallery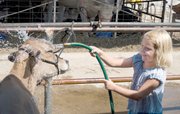 Leavenworth County Fair 2007
"It's just gotten bigger and bigger and bigger:" he said.
The 81st annual Leavenworth County Fair wrapped up Saturday night after a few days of triple-digit heat and few inches of rain.
Parker, who is from Easton, said he was happy to see how family-oriented the fair has remained as it has grown in size, but it has taken a lot of work to keep it that way. And that is the reason why he and the other volunteers spend so much time for this one-week event each year.
"I want this to be the best fair in the area and we all work hard to make it that way," Parker said.
Ervin and Shirley Jobe of Leavenworth also said that the fair has changed a lot since they first started attending in the 1960s and since Ervin had his Fuller Brush Company booth at the fair.
"It's changed ever since the tornado went through here and cleaned house," Ervin said.
Ervin and Shirley, who have been married for 55 years, said they came to see their great-grandson Austin Foley, 9, compete with his bucket calf, Moonlight, at the fair.
But it wasn't all hard work for the 4-H'ers last week.
To celebrate the end of their many months of hard work, the 4-H'ers were allowed to unwind as the livestock show arena was transformed into a hopping discotheque for the annual 4-H Memorial Garden Dance.
Livestock Auction
The 42nd Annual 4-H/FFA Live Stock Auction in the livestock show arena in the south east part of the fair grounds.
Sweat ran down the faces of the auction callers as they picked up bids from the many local companies that came out to support the 4-H'ers who have devoted a lot of time to their animals.
Market lambs started off the auction, followed by rabbits, goats, hogs and finally Steers.
Beth Hecht, 4-H agent for the Leavenworth County Research and Extension office, said this year's auction went well.
"Over all it was pretty strong. It was stronger than average," she said.
Hecht said there were a lot of new buyers out at the auction, which meant many of the 4-H'ers went out to attract new bidders, but she would always like to see more support from county businesses.
In total, the 132 animals sold at Friday's auction brought in $74,325 for local 4-H'ers.
And they call the thing rodeo
Those brave or crazy enough to stand the heat and humidity of Thursday night were treated to the opening of the Six Crown Rodeo held rodeo arena. While there were many open seats available Thursday night, by Friday many more people came to support local rodeo competitors. The rodeo not only was a time for some of the more experienced riders to come out, but also a time for some of the new comers to go from the junior rodeo ranks to the pros.
This was the first time for Destiny Mestagh to compete in a pro rodeo for women's calf roping.
The 11-year-old McLouth girl had a few practice throws at a bail of hay as she prepared for her premiere. She seemed anxious on her horse as the waited for her turn, but she said that she wasn't nervous at all.
Mestagh's mother, Kathrine Shade, was waiting behind the arena gates for Mestagh to finish her run.
"She's been on horses since she was born, but she's only been roping for two years," Shade said.
Unfortunately, like some of the other competitors, the calf got away from her so she did not score any points, but she was glad to have the experience.
Crash those cars up
The event that drew the biggest crowd at the grandstands this year was the demolition derby. Hundreds of people sat at the edge of their seats to watch the many drivers of late-model automobiles smash their vehicles into each other to see who would be the last man standing - or more accurately last car running - and claim victory.
Large plumes of smoke wafted through the crowd as spectators watched large chunks of mud and car pieces fly through the air with each punishing collision.
Those who could leave the arena did so by their own power. Everyone else's vehicles had to be pushed out of the arena with a little help from a mini-loader.
Karen Wilk from Leavenworth comes out to watch the derby every year because her husband is one of the officials refereeing the event.
"I love all of the excitement with the crashing and everything," she said.
She said while each ear is enjoyable, this year was a little more worrisome because there were more injuries to the drivers.
But that didn't stop the drivers from competing.
After being the first to be rushed out of his car to await Leavenworth County Emergency Medical Service for a severely bleeding hand injury, 18-year-old Steven Solwa from Lawrence didn't seem too phased about the whole experience. In fact, after being told by EMS he would need stitches for his wound, Solwa said he was going to wait until the night was over before he would get all stitched up.
Pie, pie everywhere there's pie
When Sonja Frevele attended Tonganoxie High School, her lunch period lasted only 25 minutes. By the time she got her food, she usually had only 15 minutes because of the long line at the cafeteria.
Frevele, who's currently a student at Kansas City Kansas Community College, can look back at the brief lunch period as training for the Leavenworth County Fair.
Frevele, 23, won Saturday's pie-eating contest at the Leavenworth County Fairgrounds. The fair has held the pie-eating contest for the past five years, excluding 2004. Frevele has won every time.
"That short period trained us to eat as much food on your plate as you could," Frevele said.
In preparation for the contest, Frevele hadn't eaten since Friday evening. In fact, she only had half an Indian taco and a roast beef sandwich for the entire day Friday.
"I'm actually not too full," Frevele said afterward. "I'll probably go home and eat something - maybe a carrot."
Frevele also exercised before the contest. She woke up around 8 a.m. and did sit-ups before arriving at the fairgrounds.
Roughly 20 competitors sat on bleachers inside the Big Top Tent at the fair. All pie eaters had their hands tied behind their backs with rubber bands.
Each competitor was given a plate that had three assorted slices of pie on it. Frevele had mostly chocolate crÃme pie, with a little lemon pie added as well.
"You just have to swallow a lot of it," Frevele said. "Suck it in, eat it, stick it down."
She claimed her prize at the conclusion of the competition - fittingly, a French silk pie. Frevele said her favorite kind of pie was apple or cherry.
The most Frevele ever has consumed at a contest was two whole banana crÃme pies at a Tonganoxie Days festival. She's never gotten sick from a pie contest.
A lack of hare
The turtle race event followed the pie-eating contest in the Big Top Tent. Saturday's turtle race featured 76 turtles.
The race was broken up into 11 heats. The winner from each heat competed in one final race to determine the overall champion.
Erin Gallagher, 5, Tonganoxie, had the winning turtle, No. 62.
"Every night, I took him for a walk," Erin said of her turtle. "I always put him on our living room floor as well."
It was the first time Erin competed in the turtle race. Erin is a second-generation turtle racer. Her mother, Jammi, competed at the fair when she was a youth. She never won, though.
Erin received four free carnival rides for her prize. She said she'd likely use the tickets on her favorite ride, the Zero Gravity spinner.
Erin has had her turtle, which she named Flash, for two weeks. She actually found the turtle in a flowerbed at her grandmother's residence.
"Why did I name him flash? Because he's fast," Erin said, laughing.
Hog Heaven
Soaring temperatures and high humidity kept Future Farmers of America and 4-H'ers busy trying to keep their hogs cool and comfortable before the swine showmanship judging Aug. 7.
Hosing the pigs down with water not only kept them from overheating, but also helped to clean them - an important part of swine showmanship.
"Pigs on a farm are going to be dirty," said Trey Lohman, 18, who won grand champion in his age division. "You clean them as best you can. Spotless would be preferable."
The judge reminded the several classes of showmen in four age groups to lead the animals rather than follow them around the arena. The participants used poles or whips to drive the pigs and keep them in control and the very best out of each class were chosen to compete at the end of each age group. One of those in the nine to 10-year-old age group was 10-year-old Shelby Ogden from Leavenworth.
"I just work them, get them under control and stay calm," Ogden said about the secret to her grand champion award. "You also have to make sure you have really good eye contact. That's really important in showmanship."
While different levels of experience, the heat and the hogs' temperament all affected the participants' performances, Blaine McDougal, 14, another grand champion in his age group proved that experience and practice really do pay off.
"I work with my pigs a lot," he said. "I went to national shows and won showmanship there. I just practice, practice, practice."