Fall sports begin with bar set high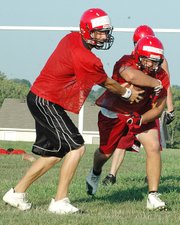 The sun was just beginning to rise when the sets of headlights rolled into the Lansing High parking lot on Monday morning.
It was a little before 6 a.m. when the LHS football and volleyball players arrived to officially kick off the fall sports season.
Thirty minutes later the girls tennis team arrived, and shortly thereafter the first cross country practice began.
The football and volleyball teams returned in the afternoon for two-a-day workouts, and the boys soccer team also reported for duty.
Yes, sports season is under way again, and the Lions are reporting to camp with big goals.
After winning Kaw Valley League championships in 2005, the football, volleyball and boys soccer teams slipped down the ranks last year. All three begin practice with their sights set on returning to the top.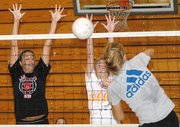 Meanwhile, the youth-laden cross country and tennis teams also enter the fall with their sights set on improvement.