Gas leak slows traffic near 24-40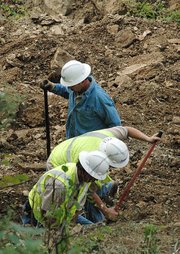 Bonner Springs — South-bound traffic on Kansas Highway 7 was backed up briefly Thursday afternoon just south of the intersection with 24-40 Highway when a gas leak led firefighters to temporarily close one lane.
The leak occurred at about 2 p.m. when Kansas Department of Transportation workers were clearing dirt to expand a water drainage system before building a new ramp from 24-40 to southbound Highway 7. While digging, one of the teeth on a KDOT backhoe punctured a six-inch gas pipe and sprung a leak.
Firefighters were called in as a precaution, and one lane of traffic was closed for about 15 minutes while emergency vehicles lined the shoulder of the highway. No fire was sparked during the leak, however, and workers quickly shut off the gas and called Atmos Energy to come in and repair the pipe.
"It's just a little bump in the road," said Kevin Kellerman, project engineer. "It sets us back a little bit, but they'll probably have it fixed by tomorrow."