Lions feel the burn
Heat wave greets athletes as fall sports practices begin
The smiles that Lansing High tennis coach Rachel Elkins saw on her players' faces Monday morning may have been sending a mixed message.
It's likely the smiles reflected the players' excitement to be reporting for the first practice of the season, but the smiles also may have been because it was a tepid 82 degrees outside. Of course, this was at 6:30 a.m., and this was the most comfortable weather players could hope for.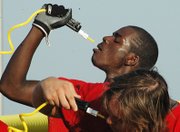 "It was already starting to heat up," Elkins said. "But going in the morning was really a smart thing."
Temperatures eventually surged toward triple digits Monday afternoon - the first of three consecutive days near 100 degrees in the forecast. In fact, the National Weather Service issued an Excessive Heat Warning for Leavenworth County for Monday, Tuesday and Wednesday, and the sports teams at Lansing High were forced to adjust their schedules to accommodate the blistering heat.
Lansing School District does not have an official policy regarding practices on hot days, but LHS activities director Gary Mattingly said the school was taking precautions to keep student-athletes safe. Elkins started practice 90 minutes early to beat the heat, and Errol Logue's cross country team practiced at 7 a.m.
Even though her team practiced during the coolest part of the day, Elkins said she gave players extra water breaks to help prevent dehydration.
"It was one of those things where after a certain time or after a drill, drink water whether you think you need it or not," she said.
Mattingly took the additional safety measure of instructing coaches not to begin afternoon outdoor practices until 6 p.m. or later to avoid excessive heat exposure. That's a practice coaches said they had no problem complying with.
"It seems like by midafternoon (the heat) really gets crankin'," LHS football coach Bill Pekarek said. "It's going to be hot even at 6 p.m., but it's probably better than 4 p.m."
Pekarek's squad has been running two-a-day practices all week at 6 a.m. and 6 p.m. He said that in addition to extra water breaks during practice, players were encouraged to stay hydrated at home.
"We always tell them to make sure they load up on water and stuff like that," he said. "We tell them to stay away from pop, and I guess you're supposed to dilute Gatorade to half water, so that's what we're telling them to do."
The boys soccer team also has been practicing at 6 p.m. this week because of the heat.
The only LHS squad that the 6 p.m. rule hasn't impacted is the volleyball team because it practices in the gym. Even so, the practice routine has changed slightly because of the heat. All team members are required to run the mile in less than eight minutes. The run takes place outside on the track, however, so LHS coach Julie Slater opted to only have players run it at morning workouts. It turned out that didn't make much difference because a program record 18 players met the time trial on the first attempt Monday morning.