Summer commitment gives Lions veteran look
Yes, this is just week one of the high school girls tennis season, but third-year Lansing High coach Rachel Elkins said it feels like her team has been playing for months.
That's because almost half of the 24 girls on the roster played Junior Team Tennis all summer, so Elkins said the team already is displaying a more advanced skill set than in previous years.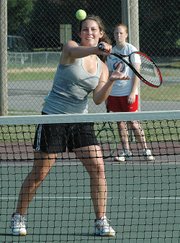 "A lot of the girls played this summer, so they have been exposed to some competition already," Elkins said.
Included among those who played Junior Team Tennis and are out for tennis this fall are Anisha Patel, Katelyn Griffen, Christine Cordes, Lauren Elkins, Amy Briggs, Ashley Harrington, Briana Hall, Allison Dillon, Ariana Domke and Chelsea Weeks.
The Lions open their season a few weeks earlier than usual when they compete Thursday, Aug. 23, at the Spring Hill Duel. That event will include both varsity and junior varsity players, but Rachel Elkins will have to determine a lineup for that meet. She said competition for varsity positions would begin later this week, and she said she expected some of the girls who played Junior Team Tennis to be in the running for those spots.
"A lot of those girls worked this summer, so the challenge will come when I start looking at where they'll play," she said. "I'm going to have to get the girls in the right group. There's going to be a couple that are really floaters between JV and varsity, and I want to get them the competition experience they need, but also expose them to a higher level."
Fortunately for the Lions, they will have numerous opportunities during the early weeks of the season to compete for varsity spots. After Spring Hill, the varsity competes Aug. 25 at Shawnee Heights. Then there are two junior varsity tournaments the following week.
"The girls' season is so short, and I'd rather play than practice," Rachel Elkins said. "I'd rather get the girls out there and have them get some experience."