Whether serving his country, serving the Leavenworth community or serving his 10 children dinner, Rolly Dessert has long had a vested interest in those around him.
After over 30 years in the United States Army, the Lansing man is now the "voice of the soldier" as president of the Leavenworth chapter of the Association of the United States Army.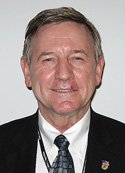 "The Army cannot lobby for itself, so the association is able to speak to the public and communicate to public officials about the total Army active duty, the Army Reserve, National Guard, Army civilians and their families," Dessert pronounced like the Sahara, not the banana split said Wednesday. "We need to make sure that all those serving in the total Army receive adequate compensation:
"The larger issue is making sure the Army has adequate resources to perform what's expected of them by national leadership:"
Dessert, whose last military assignment was as a garrison commander at Fort Leavenworth, is the son of a soldier, a soldier himself and will be the father of a soldier in December when his youngest son Joseph, a senior at the University of St. Mary, will join the Army as a commissioned officer.
Joseph is one of Dessert's 10 grown children.
"It's fun," Dessert said of living in a large family. "There's never a dull moment:You sometimes had to eat fast in order to get seconds:.But it's exciting. Every one of my children has a very interesting life."
Outside of his professional and family life, Dessert volunteers for various organizations.
He sits on the board of directors for Caritas Clinics, which runs St. Vincent Clinic in Leavenworth, a not-for-profit primary health care clinic serving low-income and uninsured residents and used to be heavily involved in the Leavenworth Catholic Schools System.
NAME: Rolly Dessert
ADDRESS: 713 Cottonwood, Lansing
OCCUPATION: Consultant, Booz Allen Hamilton
FAMILY: Karen, wife; Jennifer, daughter; Elizabeth, daughter; Ross, son; Farrell, daughter; Brooke, son; Graham, son; Katherine, daughter; Andrew, son; Joseph, son; Ruth, daughter; 11 grandchildren
HOW LONG HAVE YOU LIVED IN LANSING AND WHAT BROUGHT YOU HERE? "I retired from the Army in 1999, and I moved to Lansing then."
WHAT DO YOU LIKE MOST ABOUT LANSING? "I think it's a very pleasant place to raise a family."
WHAT DO YOU DO FOR FUN? "Go to ball games, exercise at the gym."
WHAT MIGHT SURPRISE PEOPLE ABOUT YOU? "I actually like to cut the grass. It's something I can do in about 90 minutes, and it looks nice when I'm done."
WHAT'S THE BEST ADVICE YOU'VE EVER RECEIVED? "My dad used to say, 'Don't take yourself too seriously.' It's kind of common advice, but at its root, it suggests you need to practice humility if possible."
WHAT CLUBS OR ORGANIZATIONS DO YOU BELONG TO? Leavenworth Noon Lions Club, president of the Henry Leavenworth Chapter of the Association of the United States Army, member of the board of directors for Caritas Clinics, former chief executive administrator of the Leavenworth Catholic Schools System and associate with Sisters of Charity of Leavenworth.