Early start to tennis season will aid progress
Tiny modifications marked Rachel Elkins' first two seasons at the helm of the Lansing High girls tennis program.
Improve player fundamentals. Check.
Win some postseason matches. Check.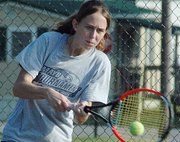 Start a summer program. Check.
Develop depth. Check.
This year's big change is the addition of more matches on the schedule. Considering the season only runs until mid-October, Elkins wanted to create as many playing opportunities as possible for her squad. That's why she and LHS activities director Gary Mattingly stuck three more outings on the slate before the squad's usual season-opener on Aug. 29 at the Mill Valley Junior Varsity Tournament.
This year the season begins today - six days early - at 3:30 p.m. when the varsity and JV squads travel to the Spring Hill Duel. Then there's a 9 a.m. Saturday varsity tournament at Shawnee Heights and a 3:30 p.m. Monday JV tournament against Immaculata at David Brewer.
"I think it's a good thing," Elkins said. "For us, Mill Valley was always the first tournament for us and there were a lot of butterflies. Now we go into that JV tournament with two meets under our belt. That is going to help us."
Spring Hill's varsity squad is relatively young, so Elkins said she would keep senior captains Christine Cordes and Lauren Elkins at home and take an all-sophomore lineup. Amy Briggs and Ashley Harrington will play singles. Allison Dillon and Ariana Domke will team up for doubles, as will Katelyn Griffen and Briana Hall. In addition, some of the JV roster will travel to the meet.
Cordes and Lauren Elkins will make their debut at Shawnee Heights as No. 1 singles when LHS takes on one of Class 5A's perennial powers. A mix of sophomores likely will round out the varsity lineup for that tournament.
Rachel Elkins said the varsity lineup likely would change from tournament to tournament throughout the season because the competition level at practice is higher than ever before. That, Rachel Elkins said, is a good thing.
"That class of 2010 : Harrington, Hall, Dillon, Domke, Briggs, Griffen : that's a very strong class," she said. "One of my goals was to build some depth into the program, and now I have depth. Now the girls know there's only going to be six that are going to travel, so the challenge is to do some very competitive practices and keep the competitive juices going where week by week they know that they have to give 100 percent at practice, where a challenge match is like playing another school because it's a match that will determine if you travel or not.
"And the depth helps even more because if you have an injury you don't have to worry about who you pull up because you have a lot of very good players to draw from."