LHS

readies for life after Alex
The No. 1 question facing the Lansing High boys soccer team entering the 2007 season was how it would replace two-time Class 5A All-State goalkeeper Alex Burton.
The Lions effectively answered that question Friday at the annual Red-White Scrimmage when new goalkeeper Ethan Alexander collected a shutout and made a handful of skillful saves.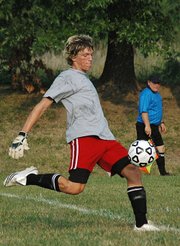 "There's some things that we're working on, and he knows some things that he needs to work on, but Ethan's stepping up," LHS coach Randy Brown said. "The good news is he doesn't know the shoes he's trying to fill. He's just walking up and doing the best he can."
Burton posted a 29-7-1 record as a starter the past two years before signing with Baker University and helped LHS to a Kaw Valley League championship and state quarterfinal appearance in 2005. Alexander knows nothing of that. The senior transferred to Lansing from Louisiana just this year.
Alexander didn't have any youth soccer opportunities available to him growing up, so he first played the sport as a freshman in high school. He caught on quick, however, and his three years of high school experience were enough to help him jell quickly with his new teammates at LHS.
"I think he's a great keeper," senior sweeper Drew Reynolds said. "He's no Alex Burton, but you've got to work with what you've got."
No, Alexander isn't Alex Burton, but the new LHS goalkeeper did display some Lance Burton-esque talent with his ability to make potential goals disappear during the scrimmage.
There was the time in the first half when he dove to the ground in traffic to snuff out a shot, and there was the second-half one-on-one situation when he broke down the opposing forward and gobbled up the shot. Reynolds said such plays have given him a lot of confidence in Alexander.
"Strikers like to move up on him and mess around with (the ball) in the box, but he keeps his cool, he breaks you down and he gets to the ball," Reynolds said. "He's a diver; he'll go for the ball. I like that in a keeper."
Alexander was quick to point out that his defense - and honorable mention All-KVL selection Reynolds - helped him out quite a bit.
"There was a lot of Drew back there," Alexander said. "He plays a lot like my old sweeper did, so it's easier coming in here now."
As far as pressure is concerned, Alexander said it doesn't bother him. He said he plans to work as hard as he can to help Lansing win a lot of games.
"I don't feel pressure, but I just hope I do good," he said. "I hope I can fill (Burton's) shoes and everybody brings me in with open arms and everything. I'll just try to do my best."