From early May until the first frost of the year, Norman McLeod can be found outside his Leavenworth home, caring for his expansive flowerbeds.
For McLeod, gardening is a passion, and he takes time each spring and summer to come up with one of the most creative displays in Leavenworth County.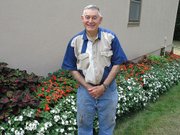 This year, two international flags - from Turkey and Afghanistan - made from various flowers are part of McLeod's front yard.
Each year the Leavenworth-Lansing Chamber of Commerce sponsors an international officer's family, and McLeod uses the officers' home countries as inspiration for his yard.
In the past, McLeod has designed floral flags from Burundi, the Phillipines, El Salvador, the United Arab Emirates, Switzerland, Colombia and Portugal.
This year's Turkish flag - a red background with a white crescent and star - was made using red salvia and mums. The black, red and green Afghan flag was a little more difficult.
"There are no green-blooming flowers that I know of, so I used jalapeno plants," McLeod said. "The only black-blooming flowers are black orchids in Hawaii, but they're too expensive, so I used purple salvia."
"Doing this, it's just my way of contributing to art and to display countries that we sponsor through the Leavenworth-Lansing Chamber of Commerce," McLeod said.
When asked if he'd consider trying the U.S. flag, McLeod said, "13 alternating red and white stripes would be difficult to do : and all those stars. You'd have to do it only abstractly."
What's McLeod's secret for lush flowerbeds year after year?
He starts each season by adding magnesium sulfate - or Epsom salt - to his flowers.
"Those little plants will bloom their hearts out when I put Epsom salt on them," McLeod said. "That's how I get those prolific bloomers."
NAME: Norman McLeod
ADDRESS: 1906 Ridge Road, Leavenworth
OCCUPATION: Retired, former Army officer and banker
FAMILY: Sarah, wife; Elizabeth and Mark, twin daughter and son
HOW LONG HAVE YOU LIVED IN THE AREA AND WHAT BROUGHT YOU HERE? "22 years. The last nine years in the Army I was on three different assignments at Fort Leavenworth. That's why we decided to stay, and that's what made us Kansans."
WHAT DO YOU LIKE MOST ABOUT THE AREA? "The people best of all : we like the four seasons and the fact that Leavenworth is a quiet, quaint, safe town."
WHAT DO YOU DO FOR FUN? "Gardening is my expression and my recreation. Also volunteering : and church means a lot to us. Both Sarah and I are choir singers at St. Paul's Episcopal Church, and I'm a lay reader and a chalice bearer."
WHAT MIGHT SURPRISE PEOPLE ABOUT YOU? "That I can sing."
WHAT'S THE BEST ADVICE YOU'VE EVER RECEIVED? "Do onto others as they would do unto you."
WHAT CLUBS OR ORGANIZATIONS DO YOU BELONG TO? Lion's Club, the OB's (Old Bastards), red coat ambassador with the Leavenworth-Lansing Chamber of Commerce and member of St. Paul's Episcopal Church