Students' week ends with cool treat
The conclusion of the first week of class had a sweet ending for several students at Lansing Intermediate School.
Students of Cheryl Rader's fourth-grade class welcomed back the school year by learning about dairy products and finished the week by making homemade ice cream.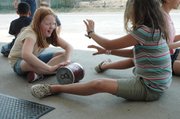 In a small coffee can, eggs, sugar, vanilla and condensed, evaporated and whole milks were combined and placed in a larger coffee can filled with ice and salt.
With cans rolling back and forth among students sitting at her feet, Rader explained that rolling the ingredients in the salt and ice made the inside mixture freeze into a smooth consistency.
It's been 14 years now that Rader has been teaching this lesson to her students, and she said it was the perfect way to get students back into the routine of taking notes and working together and added that the treat at the end of the week was just a tasty bonus.
Since returning to school Wednesday, Aug. 15, Rader's students have been learning about the benefits of dairy and how different products are made.
Sydney Sterling, 11, said so far she has learned that a cow's udder can weigh between 25 and 30 pounds with the entire cow weighing as much as 1,400 pounds.
Sterling said that when she heard they were going to make homemade ice cream in class she thought "wow" and said she was sure that it was going to be a great year overall.
Trevor Young, 10, said he thought the idea was exciting and thought of the activity as an interesting science experiment. Even though chocolate is technically his favorite ice-cream flavor, he said he was having fun making the vanilla mixture.
The idea for the lesson came from a class Rader took at Kansas State University titled "Agriculture in the Classroom." She said students learn facts that they can take and use in real-life situations.
Students practiced taking notes and then used them to make projects to show off the numerous facts they'd learned. Rader also said the lesson worked on cooperative learning in which students worked in teams on different projects.
The final step of the day was a taste test. Each student got a cup full of the ice cream, and the silence in the room that followed gave the indication that the cool treat was quite enjoyable for all.