Businessman leaves behind long legacy
Leavenworth County lost an influential business leader and a strong supporter of local economic development with last week's death of V.B. "Mac" Greenamyre.
Greenamyre's Development Inc., a family-run business that sells retail space, office space and commercial land for development, was established in 1965, and the company has been a part of the Leavenworth, Lansing and Fort Leavenworth business community ever since.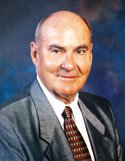 One of the most visible reminders of Greenamyre's legacy for Lansing residents is Lansing City Hall, which sits on land donated by the developer, who died Wednesday, Aug. 22.
Mayor Kenneth Bernard said Greenamyre made the donation on the condition that he and the city split the cost of extending 4-H Road east of Main Street to what is now First Street Terrace.
"It was all done on a handshake," Bernard recalled. "We - the city - built the First Terrace in front of City Hall, and he built the street in front of his developments."
Bernard, who first became Lansing mayor in 1983, said Greenamyre saw Lansing's potential for growth, even when others overlooked it.
"Especially in the '80s, he was the only one really building in Lansing," Bernard said.
Greenamyre's vision included both residential and commercial properties.
Among them were the Main Street Center, in the 800 block of North Main Street, which recently underwent expansion and renovations, and much of the Fawn Valley housing development north and east of City Hall.
"He told me, 'I think this town's going to grow,'" Bernard said of Greenamyre's investments in Lansing at the time.
Those investments continued after Greenamyre turned over the reins at Development, Inc., to his son and current president Mike Greenamyre in 2001.
The Greenamyre family developed Lansing Business Center in the early part of this decade. The center is now home to Leavenworth County Special Education Cooperative's School of New Beginnings and will include A Deere Place Child Care in October and American Energy Products later this fall.
Bernard and City Administrator Mike Smith said Greenamyre's word was his bond.
"If he told you something was going to happen, it was going to happen," Bernard said.
Added Smith, "When he said something, you knew that was the way it was going to be." One of his last dealings with the city involved the property across the street from City Hall.
Leavenworth County Special Education Cooperative's administrative offices were housed in the building at 730 First Terrace, but Greenamyre thought the building was well suited for another use.
"He originally planted the idea to sell that building to the city because it'd be a good place for the new library," Bernard said.
The city completed purchase of the building in June and plans to move the library and expanded city offices to it once the current lease expires in 2009.
¢ An obituary for Mac Greenamyre appears on page 5A.