Commander seeks military collaboration
Fort Leavenworth — The new commander at Fort Leavenworth wants the military and government agencies to become more adept at working together.
Lt. Gen. William B. Caldwell IV said military officers need to be comfortable working with civilians, especially with those working at the federal level, such as at the U.S. State Department. The wars in Iraq and Afghanistan involve more than just military operations, he said.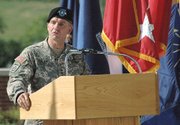 "The U.S. government is in the lead," said Caldwell, who supervised Hurricane Katrina relief efforts in New Orleans and once worked in the White House.
Caldwell also said he encourages other agencies, such as the FBI and the State Department, to send employees to study at the fort's Command and General Staff College and interact with military personnel. Only four of 799 students in the latest class are civilians, he said. The college annually trains more than 8,000 officers, including some from other countries.
On July 12, Caldwell took over as commanding general of the U.S. Army Combined Arms Center and Fort Leavenworth. He spent the previous year in Iraq, where he served as military spokesman to the media.
On Monday, Caldwell and Command Sgt. Maj. David Bruner met with the media in the new Lewis and Clark Center to discuss the focus of the fort's military teaching institutions. Officers attending the college at the center are mid-level career officers, usually majors.
Caldwell, former commander of the 82nd Airborne Division, emphasized the need for officers to be creative and adaptive in dealing with today's insurgent wars.
"The way we are doing things is not necessarily the way we are going to do things in the future," Caldwell said.
Lessons learned by the Army in Iraq and Afghanistan can be passed on almost immediately to other forces through modern technology by posting information online and relaying it by teleconferencing, he said. Military doctrine manuals are constantly updated but it takes about a year to write and publish a new one, he said.
Caldwell saw action in Panama in 1989 and Iraq in 1990-91. He noted that most of the military officers studying at Fort Leavenworth are combat veterans and know more than the instructors. The job of instructors is to facilitate discussion because often the students are the experts, he said.
"We need to listen to them," Caldwell said of the combat veterans.
Officers also should express their opinions about the handling of military issues but do it within the chain of command, he said.
Caldwell said he wants to keep communication lines open to the media and perhaps host regular sessions during which he or other commanders, soldiers and instructors could be made available. He said he learned in Iraq the importance of being honest and open not only with the U.S. media but also with media in the Arabic world.
Caldwell replaces Gen. David Petraeus at Fort Leavenworth. Petraeus is now commander of U.S. forces in Iraq.