High stakes opener
Friday showdown against rival Tonganoxie could determine Kaw Valley League champ
Last week was the test run. Friday night is the real thing.
Yes, the Lansing High football team showed signs of brilliance at times during its Red-White Scrimmage on Thursday, Aug. 23, while also proving that it's not yet polished in a number of areas.
Photo Gallery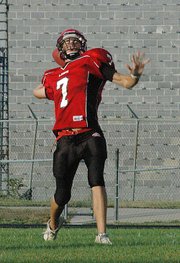 Football Red-White Scrimmage 2007
The Lions gave every indication that they have the potential to win the Kaw Valley League championship this fall, but that'll only be a possibility if they iron out most of the wrinkles quickly. Specifically, they need to do it by 7 p.m. Friday when they play host to the Tonganoxie Chieftains at Frank Graham Field.
"Tongie's been successful in recent years, and we've been successful too," LHS coach Bill Pekarek said. "We haven't won this game as much as we'd like to, and I'm tired of that."
THS is the defending league champ, and it sent Lansing home with a 37-14 loss in last year's season-opener. Two years ago LHS came from behind in the final 10 minutes to steal a 14-10 victory. The Lions, Chieftains and Perry-Lecompton Kaws shared a three-way tie for the KVL crown that year.
Lansing and Tonganoxie have traded positions for this year's season-opener. One of the league's most experienced squads last season, the Chieftains must replace top offensive threats quarterback Jeff Hughes and running back Daniel Volk this season.
"They've got two of their three backs back, though," Pekarek said. "But they did graduate a lot of linemen and wide receivers."
Meanwhile, Lansing is one of the most experienced squads in the KVL this season with a dangerous speed attack that includes fullback Brad Terron and tailbacks Chris Hill and Brenton Smith. In addition, new quarterback Bobby Hauver is fast, as are receivers Kevin Johnson and Matt Robbins.
Still, Pekarek said the key to beating the Chieftains is to be more physical than them. That means offensive linemen Brendon Becker, Nick Brungardt, Zach Robinson, Mycol Bowen and Cody Rush will have to be a force up front. It also means the defensive line of Sean Gowdy, James Hughes, Steven Didde, Bowen and Becker will have to bully the Tonganoxie front five.
"We always want to be known as a physical team, and Tongie over the years has been a physical team," Pekarek said. "This is a game that if we're not physical then we'll lose. We have to make sure we're as physical or more physical than they are."
Terron said Lansing should have no trouble preparing for Tonganoxie. After all, the loss to THS sent LHS on a three-game losing skid to start the season last year. The Lions ultimately finished the season with a 4-6 record and another berth in the state playoffs, but Terron said another shaky start is unacceptable.
"We don't want to start off 0-3," he said. "We want to start 3-0."
Senior linebacker David Dickson said a solid showing against the Chieftains is critical for the Lions if they hope to win the KVL and make a fourth straight trip to the playoffs.
"I think this is going to set the tone for the rest of the season," he said. "If we win this one big, everyone is going to see that we're not going to be the same team as last year : that we have improved. This is a big game for us."