Topeka tournament tests young Lansing tennis squad
Topeka — As the newest team invited to participate in the Shawnee Heights Invitational, the Lansing High girls tennis squad wasn't content with just showing up.
Instead, the Lions turned in a solid all-around performance on Saturday at the Lake Shawnee Tennis Center. For the most part they flourished in the all-doubles format. The No. 1 doubles team of Amy Briggs and Christine Cordes and the No. 2 doubles pair of Lauren Elkins and Ashley Harrington both placed fifth with 2-2 records. Allison Dillon and Ariana Domke went 1-3 and finished seventh at No. 3 doubles. Katelyn Griffen and Briana Hall went 3-1 and finished third at No. 4 doubles.
Photo Gallery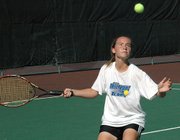 LHS tennis competes at Shawnee Heights Doubles Tournament
Third-year coach Rachel Elkins said she was pleased to see her players perform so well at an early tournament against top-tier competition.
"If you look at it, to see Lansing included with schools like that : Topeka West, Washburn Rural, Shawnee Heights, Lawrence Free State, Topeka High, Salina Central, Topeka Seaman : When have we been in a venue like that?" Elkins said. "That's great. That's what the girls need. That's how we're going to get better."
The Shawnee Heights Invitational provided a likely sneak peek at opponents Lansing will see at the Class 5A regional tournament on Oct. 4. West, Heights and Seaman all were in Lansing's regional last year. Considering the teams' chances of meeting in the postseason again, the Lions have plenty of reasons to be optimistic based on their performance Saturday.
Take, for example, Lansing's head-to-head matchups with Seaman and West. The Lions went 2-2 against each of those opponents. Cordes and Briggs earned an 8-4 victory over Seaman's No. 1 doubles pair of Jamie Eakes and Amy Phipps, and they dropped an 8-3 decision to 2006 state qualifiers Ellen Dicus and Annie Doole.
"I thought that Amy and Chrissy played some good matches and they had a really high level of competition, particularly Topeka West," Elkins said. "That was a touch match, and those two (from West), we played them in Junior Team Tennis and they're very tough."
Also consider Harrington and Lauren Elkins knocked off West's No. 2 doubles team of Alyssa Padilla and Ashley Welch despite Harrington battling multiple injuries and Elkins making the transition back from singles to doubles.
Although Rachel Elkins said she was pleased with her team's overall performance - especially considering she took two seniors and six sophomores to the tournament - she said she would like to see the Lions show improved mental toughness when facing adversity as the season progresses. Specifically, she said some of her younger players had a difficult time shaking off small mistakes and moving on to the next point. At the same time, she was able to point out an example of mental discipline that she hopes her players can emulate - and that example comes from within the team.
"With Ashley not being 100 percent, I thought Ashley and Lauren were able to mentally overcome some physical difficulties," the coach said. "They still played hard, dug in and played a good match. They could've let it go the other way, they could've gone negative about it, but they pressed on and went 2-2. That shows me the mental toughness that you have to have from match to match, from tournament to tournament, throughout this very short season. I would like the team to be mentally tougher, and I thought that was a good showcase of it."
The varsity now is off for about two weeks before returning to action Sept. 11 at Gardner-Edgerton. Rachel Elkins said she plans to focus on her team's mental toughness during the time off.
"They're going to be able to use that time to help them move up the (varsity) ladder, too," she said. "This sets the stage for my ability to have some challenge matches (in practice), because as we progress into the season we start going down to that six-man travel roster."