V.B.

"Mac" Greenamyre
1921-2007
Services for V.B. "Mac" Greenamyre, 86, of Leavenworth, were Monday at Riverfront Community Center, Leavenworth. Private inurnment was to follow at a later date.
Mr. Greenamyre died Wednesday, Aug. 22, 2007.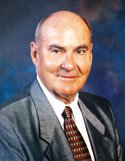 He was born March 17, 1921, on a farm in northeast Nebraska.
He walked three miles to a one-room schoolhouse, where he was the only person in his grade-school class. He rode a horse bareback for 17 miles each day to high school in Brunswick, Neb., in his freshman year. The next three years were spent at a high school in Creighton, Neb., where he graduated in the spring of 1938.
He joined the U.S. Army in 1940 and was assigned to the Medical Corps as a typist. He became a pharmacist in 1941. He was assigned to Officer Candidate School in 1942, where he was commissioned as a second lieutenant in the Medical Administration Corps, which led to his nickname, "M.A.C."
He then applied for pilot training and received his wings in August 1943. He was assigned to the 55th Fighter Group, flying P-38 fighters from England.
He married Marjorie Besel in 1943.On his 48th mission over enemy territory, he was shot down by ground anti-aircraft weapons on June 16, 1944. He was a prisoner of war through May 1945. Mac received the Distinguished Flying Cross, four air medals, the Purple Heart and several theater ribbons.
Mac graduated from the Command and General Staff College at Fort Leavenworth in 1946. He was then assigned to the Air Proving Command at Eglin Field, Fla. For five years he was a test pilot on numerous jet-powered aircraft of various designs.
He did flight testing on the B-45, which was the first multi-engine jet aircraft. He received a permanent commission in the U.S. Air Force when it became a separate service in 1948.
In 1950, he resigned his commission and returned to Leavenworth. He went into business with his father-in-law, Ed Besel. Mac kept Besel Roofing and Heating in operation after the death of Ed Besel in 1955. He started Greenamyre Rentals, Development Inc., and Property Management and Maintenance Inc., which are still in existence.
He was a member of Rotary, Leavenworth-Lansing Area Chamber of Commerce, Veterans of Foreign Wars, American Legion and Distinguished Flying Cross Society. He was the Chamber's "Citizen of the Year" in 1983.
His oldest son, Richard Besel Greenamyre, died July 19, 1991.
Survivors include his wife of 64 years, Marjorie Besel Greenamyre, and his sons: David Greenamyre and wife, Barbara Romzek, and their children, Wallis and Spencer; and Michael Greenamyre and his wife, Rita, and Michael's children, Jeremy and Daniel.
The family suggests memorial contributions to the Richard Besel Greenamyre Scholarship at Immaculata High School in Leavenworth or the Marjorie Besel Greenamyre Scholarship at the University of St. Mary in Leavenworth.
Arrangements were conducted by Davis Funeral Chapel, 531 Shawnee St., Leavenworth.