Lions start season 1-0
Lansing High boys, girls dispose of Bonner Springs in season-openers
Bonner Springs — So much for slow starts.
After being manhandled during the season-opener in each of the past three seasons by deficits of 24, 27 and 30 points, the Lansing High girls basketball team started its season with a bang Friday night by beating rival Bonner Springs, 52-42, at the Bonner Springs YMCA.
The Lions (1-0 overall, 1-0 Kaw Valley League) used an up-tempo offense, stifling defense, aggressive rebounding, competent ball handling and balanced scoring to keep the Bravettes at bay all night.
Photo Gallery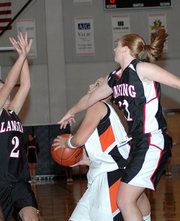 Lansing girls 52, Bonner Springs 42
Ten different Lions scored, led by a team-high 11 points from junior forward Alexis Ellis. Senior Kelsey Stanbrough led the Bravettes with a game-high 13 points but hit just four of 18 shots.
It marked the first time in Keith Andrews' four years as LHS coach that the Lions have won a season-opener. It also marked Lansing's fifth straight victory over Bonner after dropping both games during the 2004-2005 season.
"Most importantly we got a road win," he said. "(We're) 1-0 in the league, and that's what our goal was. We played real good at times, and then we played shaky like we were up by 20 at times and didn't have the killer instinct, so we've got to work on getting that, but most importantly a road win and a first win."
Despite its dominating performance, Lansing actually trailed 6-2 early. LHS missed its first five shots before sophomore Amy Briggs made a layup. Meanwhile, Bonner took the lead with a layup by senior Felisha Leipard and a free throw from Stanbrough. A three-pointer by senior Chelsea Crouch gave the Bravettes (0-1, 0-1) their biggest lead of the game. Briggs answered with a trey, and junior Brittney Lang converted a three-point play that put the Lions on top 8-6 with 4:27 left in the first quarter. They never trailed again.
Briggs' three-pointer ignited a 17-5 LHS run to end the opening quarter. The sharp shooting continued in the second quarter when the Lions sank four straight shots - a lay-in by senior Christine Cordes, a three-pointer by sophomore Katelyn Griffen and back-to-back jumpers from sophomore Kari Kelly - as they built their largest lead of the game at 32-13. The Bravettes closed the half on a 6-0 run, however, and trailed 32-19 at intermission.
As accurate as Lansing's shooting was, its lead was due in large part to its guard play. Perimeter players Briggs, Lang and senior Katie Nietzke distributed the ball effectively all night. The Lions had just 13 turnovers for the night, the first of which didn't come until 7:25 remained in the second quarter.
Lansing got a bit sloppy midway through the third quarter, and it looked like Bonner was going to make things interesting. Senior Holly Luke drilled a three-pointer and scored on a put-back, and Stanbrough added a layup off of a steal. That cut the LHS lead to seven points with 4:07 left in the quarter. Lansing regrouped during a timeout, and fed Ellis for two easy layups. Suddenly the lead was back in double digits, and the Lions coasted to the victory.
The absence of former Bonner Springs standout forward Christina Delladio was evident all game as the Bravettes lacked a consistent inside presence. Lansing capitalized as forwards Ellis, Cordes, Morgan Chiles and Amanda Darrow combined for 21 points and numerous rebounds in the paint.
"We were having a lot of fun," Ellis admitted of the Lions' balanced attack. "When someone scores we gave them a good pat on the back and a high five and just got back in it."
In addition to Ellis' offense, Lang scored nine points for LHS, Nietzke had eight, Chiles had six, Briggs scored five, Kelly had four, Griffen had three and Darrow, Cordes and Katie Cristiano each added two. Lansing shot 38 percent (23-for-60) from the field but made just three of 13 free throw attempts.
For Bonner, Leipard finished with 11 points, Luke had seven, Crouch scored six, Erica Smith had three and Lynsey Ostman added two. The Bravettes shot 25.8 percent (15-for-58) from the field and hit seven of 14 free throws.
Both teams next play Thursday in the Metro Prep Tip-off Classic Tournament at the BSHS and the Bonner Springs YMCA. Lansing plays at 3 p.m. against Savannah (Mo.). Bonner plays Topeka Seaman at 6:30 p.m.
LANSING BOYS 52, BONNER SPRINGS 45
Moments after the final buzzer sounded Friday night, the Lansing High student section barked out the chant, "Just like football."
Yes, Lansing's 52-45 boys basketball victory over Bonner Springs at the Bonner Springs YMCA was reminiscent in many ways of the Lions' 27-24 overtime victory over the Braves in September.
Photo Gallery
Lansing boys 52, Bonner Springs 45
There were lots of familiar faces making big plays, the game was intense and it was awfully sloppy (the football game took place in a downpour).
"They've all got a football hangover," LHS coach Rod Briggs joked. "They'll get down in a three-point stance in the middle of the court."
Considering Friday night was the season-opener for both basketball teams, many of the football-turned-basketball players showed signs of rust. Lansing hit just 38 percent of its shots and turned the ball over 16 times. Meanwhile, Bonner had 12 turnovers, made just 27 percent of its field goal attempts and had four players with four fouls.
"I felt like it was a typical first game for both teams," Briggs said. "We'll both be much better teams in January and February than we are now. The key is everybody plays hard that first game. What you've got to do is play hard that first game like you did, but continue that through the season and continue getting better."
Work ethic wasn't a question for either team Friday night. What they lacked in pass and shot accuracy, they made up for with intensity. The game took on a track meet mentality early. Lansing created scoring opportunities in transition with Cody Rush scoring on two put-backs, Bobby Hauver sinking a 15-footer and Curtis Beall nailing a floater in the lane. Bonner countered with six early points from senior L.T. Lee and five from senior Ariel Adger. BSHS led 13-10 after the first quarter, but the lead wasn't safe.
Lansing opened the second quarter on a 7-0 run as Ryan Delich and Hauver scored inside and Curtis Beall drilled a three-pointer. Two put-backs by Jeremy Walker allowed Bonner to hang around, but a put-back by Stephen Didde in the final seconds gave LHS a 23-21 lead at halftime.
The Braves (0-1 overall, 0-1 Kaw Valley League) knocked down three of their first four shots in the second half and took a 28-25 lead. Just as the momentum was shifting in their favor, the Lions answered with a lay-in by Rush and a jumper from Clayton Hall. Those buckets sparked a 13-3 run to close the third quarter. In a matter of minutes, LHS went from trailing by three to leading by seven.
"I thought that little run had a lot more to do with (winning the game) because both teams made tons of mistakes," Briggs said.
Bonner never let Lansing feel comfortable in the fourth quarter. Martin Birch nailed a three-pointer 14 seconds into the quarter, and he and Tyler Jock swished treys midway through the quarter to pull within 44-42 with 4:04 left. The Lions sank six of 11 free throws down the stretch - including a four-for-four effort by Hauver in the final 30 seconds - to put the game away.
The late free throws were the final pieces to an all-around solid outing by Hauver. He was Lansing's leading scorer with 13 points, but he also was a force on the glass and defensive end.
"I think Bobby Hauver was the key to the game, to be quite honest," Briggs said. "He handled the ball pretty well and really didn't have a period of time where he turned it over. I wanted to give him a good rest in the first half and I did that, so that was nice. And he knocked down free throws when we needed 'em."
Rush also added 13 points for LHS, Hall had 11, Beall scored nine, Delich had four and Didde added two. Asher led Bonner with 12 points, Birch and Lee scored eight apiece, Walker and Jock each scored six and Chase McGhee chipped in five.
Lansing (1-0, 1-0) and Bonner both next play Thursday in the first round of the Metro Prep Tip-off Classic Tournament at BSHS and the Bonner Springs YMCA. Lansing plays at 4:45 p.m. against Topeka Seaman. Bonner has an 8:15 p.m. tip-off against Atchison.