7th-grade girls finish season 8-4
It's not often that Terry Cornett is found smiling after a loss, but on Saturday the Lansing Middle School seventh-grade girls basketball coach couldn't help himself.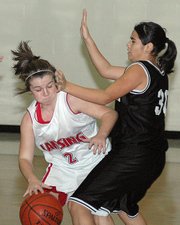 Sure, his team lost in the championship game of the Lansing Invitational to Clark Middle School, 37-15, but the Lions played without their leading scorer - and their all-around play was improved.
If only they'd had a little better shooting efficiency, the Lions might have won.
Cornett saw improvement, though, and that was satisfying.
"We didn't have the offensive punch," he said. "If we'd hit a few more (shots) early in the game, the whole complexion of the game might have been different."
In some ways the complexion was far different from an earlier matchup.
"When we played them down at their place, we couldn't even break the press," he said. "We did a good job of that today."
The Lions finished the season with an 8-4 record, and they played their final three games without top scorer Morgan Bromell and her 13-point average. Bromell broke her arm a few weeks ago. They won two of those games - including a 20-17 victory over Lexington Trail in the tournament semifinals.
"They just came together and played together," Cornett said. "It's hard to do that in a short amount of time, but they did play together. It's sad that a tragedy happens where she breaks her arm, but they really bonded after that."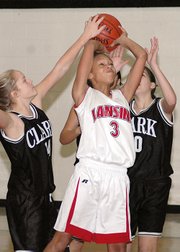 Clark jumped out to an 8-0 lead before a layup by Brianna Lozenski put LMS on the board in the final minute of the first quarter. A basket by Paige Brandt during the second quarter kept things close before Clark pulled away. Lozenski led LMS with six points, Brandt, Makenzi Hurt, Ashley Linaweaver and Kylee Darrow scored two apiece and Morgan Johnson added one.
Other team members are Danielle Pendergraft, Kasey Lewis, Renee Johnson and Shyann McCaully.