The mood was festive Monday evening when Lansing Middle School eighth-grade girls basketball coach Keith Andrews and his team convened for an end-of-season pizza party.
"We have a pizza party to entice them to get their uniforms turned in," Andrews said with a laugh. "We bribe them with pizza."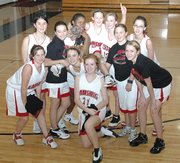 Truth be told, uniform collection was only part of the reason for the party.
"It's another chance to spend time with the kids and celebrate our successes," Andrews said.
His team consisted of Michaela Taylor, Melissa Ryan, Gabby Hacker, Megan Dike, Anne Marie Hankins, Vanessa Smith, Taylor Kroll, Brooke White, Tawnee Hall, Maggie Hornick and Tychelle Coleman, and they had plenty to be proud of. For one thing, they finished the year with an 8-5 record. They also closed the season with a second-place finish at the Lansing Invitational.
Bonner Springs-based Clark Middle School beat Lansing in the title game, 35-23. It's the second straight year Clark has defeated LMS for the championship.
Hacker scored four first-quarter points and kept Lansing within striking distance after the first quarter. A jumper by Ryan and free throws from Dike, Kroll, Taylor and Ryan propelled the Lions to a 14-11 lead late in the second quarter. Two Clark free throws, followed by a steal and three-pointer at the buzzer, sent LMS into halftime with a 16-14 deficit.
"If we go up by five at half then we're feeling pretty good," Andrews said. "As it was, we went down by two, and it was like, 'Oh, what happened?' A big three and those little momentum changers make a big difference."
Taylor drilled a jumper early in the third quarter and kept Lansing close, but Clark closed the quarter with a 7-0 run and put the lead out of reach.
Taylor led the Lions with eight points, Hacker and Ryan scored four apiece, and Dike, Hornick and Hankins each scored two. Kroll chipped in one.
Lansing defeated Lexington Trail in the semifinals, 34-25. Hacker scored 14 points in the victory, Taylor had eight, Hall scored six, Dike and White had two apiece, and Hankins and Kroll each added one.