Lions set to play Topeka Seaman
It's quite possible that the Lansing High boys basketball team could face two teams from last year's Class 5A state tournament during its first two games of the Metro Prep Tip-off Classic Tournament at Bonner Springs High School and YMCA.
The Lions definitely will face one when they open the tournament at 4:45 p.m. today against Topeka Seaman. A victory in that game likely would lead to a pairing with Bishop Miege - last year's third-place finisher at state - in the semifinals on Friday. Miege plays Kansas City (Mo.) East Christian Academy in the first round.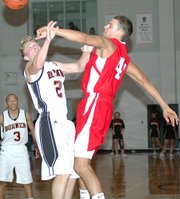 The road to a tournament title definitely won't be easy, second-year LHS coach Rod Briggs said, but anything will be an improvement on last year's last-place finish after the Lions went 0-3.
The other side of the bracket includes Bonner Springs, Shawnee Heights, Atchison - a Class 4A state qualifier last season - and Lawrence Free State, which finished third in Class 6A last season.
"It's going to be a tough tournament," he said. "I'm glad we play it. If you lose three games, you still gain. If you win two out of three, you gain. If you win all three then you're going to start out the season playing the best teams in the state, and you know where you're going.
"If you lose, you know what you need to get better at. It's not like where you win and don't know if you've gotten better. You really see exactly what you've got to improve on."
Lansing enters the tournament with a victory under its belt after beating Bonner Springs, 52-45, on Friday. Seaman also is 1-0 after a 67-52 victory over Wyandotte on Friday. Bryce Simons led the Vikings with 20 points.
Briggs said Seaman presents a daunting first-round challenge.
"Seaman is a state-qualifying team with their best player back, so we're going to have to really work hard to prepare for that game," he said. "It's going to be a tough one."