LMS

student performs at Arrowhead
There may have been more than 70,000 cheering Chiefs fans watching her dance during Sunday's half-time show, but Jasmine Hill was only out there for herself.
As she stood in the tunnel waiting to enter onto the field, nerves began to rise. Once on the field, however, Hill, 11, was in her element and there was no stopping her.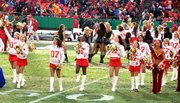 "One thing I learned is when you're on the field, you have to have confidence," she said. "The dance is for them, but really you're dancing for yourself."
This is the second year the Lansing Middle School sixth-grader has participated in the Junior Chiefs Cheerleader program, where she said she has discovered her passion for dancing.
When she joined the program a year ago, she had no prior experience on a dance team and she wasn't quite sure what to expect. But as it turns out, she's a natural, and now Hill said she wants to some day have a career in dance.
The Junior Chiefs Cheerleaders are a group of around 150 area youths ranging in age from two to 18 that perform two shows and a parade alongside the real Kansas City Chiefs cheerleaders. Hill said the program wasn't just about dancing though; the girls learned life lessons from a "Big Sis" on the Chiefs squad with which they each were paired.
Think, act, perform and look were the four habits taught throughout the program. Hill said you have to think positive, act nice to everyone, perform your best and never give up and take pride in how our look and present yourself to the world.
During each of the three-hour long practices, which were once a month beginning in August, Hill and the other junior cheerleaders got time to sit down with their "Big Sis" and talk about what's going on in school and other pressures of a teenager's life.
Since this was her second year in the program, Hill said she also took on a new roll. Besides being promoted from the junior section to the teen section of the squad, Hill had more knowledge that she said she tried to share with her younger teammates.
"I felt more like a leader this year," she said. "I'd been there before so I kind of knew what's going on."
This will be the last year that Hill will participate in the program. Her family is moving to the Washington, D.C., area for her father's military career, but she said she wouldn't forget all the fun and challenges she faced while on the squad.
Despite the hard work and high expectations, Hill said she learned important lessons on friendship and teamwork. This year she was able to reconnect with old friends from last year and still make new friends. She described them as "one big happy family" that knew the importance of teamwork and supporting one another.
Something that touched her most that she said will stay with her forever was hearing from the Chiefs cheerleaders about going on a USO tour in Iraq to dance for the soldiers deployed there. She said she knew firsthand, from her father, Chris Hill, Sr., how important those tours were.
"That's just amazing that they would do that," she said.
When she moves this summer, Hill said she wants to make sure her new school has a dance team she can join, but for now she still has one more show to look forward to this weekend. The Junior Chiefs Cheerleaders' final performance will be during the Chiefs Cheerleaders annual variety show, which said she was excited for because in addition to dancing, acting was also involved.
Hill said her father and mother, Chris and Carla Hill, and three brothers Chris, a senior at Lansing High School; Jonathan, an eighth-grader at Lansing Middle School; and Dominic, a fourth-grader at Lansing Elementary School, were all excited and supportive of any performance future she may have.