Welcome to varsity
Freshmen step up, help Lions win
KVL

Dual Tournament
Shawnee — For weeks Lansing High wrestling coach Ron Averill has been asked the same question.
"How 'bout that freshman class?"
Well, the highly-touted newcomers splashed onto the high school varsity scene in a major way Saturday at the Kaw Valley League Dual Tournament at Mill Valley High School. The veterans were pretty darn impressive, too, and that had Averill posing a different question after LHS capped a perfect day with a tiebreaker victory over Santa Fe Trail in the finals.
Photo Gallery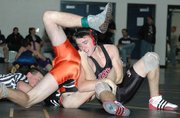 LHS wrestling wins KVL Dual Tournament
"I prefer to say, 'How about that team?'" Averill said with a grin. "The freshmen all stepped up and they competed, but this last one against Santa Fe Trail : there wouldn't have been any victories without each and every one of those guys."
LHS throttled its four opponents during pool play, claiming a 65-18 victory over a mixed JV team before rolling Perry-Lecompton (52-27), Piper (53-21) and Bonner Springs (57-18).
Round by round the Lions looked stronger. Most victories came on pins, and almost all happened in the first period. They had seven first-period pins against the JV team, seven against Perry, seven against Piper and six against Bonner.
By going 4-0 in the pool, LHS advanced to the championship dual with traditional powerhouse Santa Fe Trail. It was a rematch of last year's final, also won by Lansing, but this time it was far more intense and literally went down to the wire.
Lansing's crop of freshmen - nine of which competed Saturday - were as dominant as their upper-classman teammates during those early matches, but the pairing with Santa Fe Trail was the true test.
Freshman Brett Brown claimed a forfeit victory at 103 pounds. SFT evened the score with a forfeit victory at 112. Freshman Garrett Hinckley - a 112-pounder filling in for injured senior Dennis Wood at 119 - lost by technical fall to Santa Fe's Dillon Brown. Pins are worth six points and tech-falls are five. Although he lost the match 16-0, Hinckley's ability to fight off a pin in the end proved valuable for the Lions.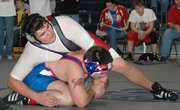 "Garrett Hinckley stepping in there and preventing a pin, that's a point, and those little things all work together," Averill said.
Freshman Spencer Blew was up next at 125 against Matt Burkdoll. After a first period where the gym rocked with energy as the pair tussled and tumbled without scoring a point, Blew took charge midway through the second period and earned a pin.
"Spencer Blew really set the tone," Averill said. "He's wrestling a tight match, and then put that kid away. That really set the tone that we're stepping up and we're taking control here."
Santa Fe claimed the next three matches as Dustin Hill won by major decision against freshman Dillon Scanlon at 130, Ryan Weaver pinned junior Wes Appleget at 135 and Chase Wells stuck freshman Nick Fodness at 140. That put SFT ahead in team points, 27-12.
Lansing countered with four straight victories. Freshman Tyler Baughman needed just 38 seconds to pin Hayden Carothers at 145, senior Nick Flynn took 91 seconds to stick Caleb Cook at 152, junior Grant Hinckley claimed a first-period pin at 160 against Ethan Anno and freshman Nathan Wessel took 64 seconds to pin Joey Elliot at 171.
"We came up to the meat of our lineup, and we all got pins," said Flynn, a state runner-up last year at 145. "That was big."
Now LHS led 36-27, but two of the Chargers' top performers helped them regain a 39-36 lead. Chris Ewing pinned junior Brian Snodgrass at 189 and defending state champion Jake Kober earned a second-period pin against junior Tyler Strouhal.
Trailing by three points, the spotlight shifted to the final match between Santa Fe's Skylar Donley and LHS freshman Zach Hammer.
Hammer scored on a take-down, but Donley earned an escape point in the final second of the first period. Hammer extended his lead to 8-2 by the end of the second period before holding on for a 9-3 victory.
Hammer's win evened the team scores at 39-39, but LHS won a tiebreaker by criteria because Lansing had six pins to Santa Fe's five in the dual.
"One of the parents said, 'Isn't it nice when you can learn a lot of lessons and still win?'" Averill said. "And we did. We learned a lot today. It was great to see these guys really settle down and work out the kinks. The first dual you could tell there were jitters and a lot of excitement. Then they settled down and continued to improve throughout the day, and then they really stepped up against Santa Fe Trail.
Flynn said he was most impressed with the way the younger wrestlers embraced the concept of team points and made sure to get pins or avoid being pinned whenever possible.
"That was a fear of mine that I thought they wouldn't get that in the team dual, but everyone grasped it," he said. "This team came together today."
Five Lions - Blew, Baughman, Flynn, Wessel and Grant Hinckley - posted 5-0 records for the day. Brown and Scanlon went 4-1.
By winning the dual tournament, Lansing set itself up as the team to beat when it tries to defend its Kaw Valley League championship on Feb. 9. Before then, however, there is a lot of wrestling to do. Up next for the Lions is the Eudora Tournament of Champions on Friday and Saturday at Eudora High School.