Wristen: Hammer's heroics spark Lions
Shawnee — With each passing match during Saturday's championship round of the Kaw Valley League Dual Tournament, the pressure steadily mounted on Lansing High freshman Zach Hammer.
Hammer, a heavyweight, sensed that if LHS was going to beat Santa Fe Trail for the tournament title, he had to win. With each passing match, that forecast proved true. When Hammer stepped on the mat to wrestle Santa Fe's Skylar Donley, the Chargers led the Lions, 39-36.
"Coach told me, 'I really need you,'" Hammer recalled after the match. "So I went out and said, 'I'll give it my best. I'm only a freshman. Heck, I've only been wrestling three years now, but I'll give it my all.'"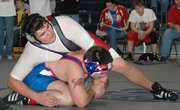 Up until this final match, Hammer's first high school tournament had produced mixed results. He'd won two matches by pin and lost two by pin. Those came in lopsided team victories, however, and the pressure was minimal.
Here in the finals, with the team's fate resting on his shoulders : this was another story. All eyes were on this match. Fans from both teams were on their feet. A championship hung in the balance.
"As a freshman, that has to be tremendous pressure," senior Nick Flynn said.
That's when Hammer's true colors shined through. He jumped up and down. He slapped his hands together. His eyes narrowed. He stepped into the center circle. It was time to wrestle.
From the opening whistle of the first period, Hammer and Donley went after each other. They scrapped, shuffled and shoved each other around. During one break in the action, Hammer waved his arms to the crowd for noise. His teammates and the Lansing fans chanted his name.
"That's Zach Hammer right there," teammate Spencer Blew said of Hammer's ability to seize the moment.
He scored a take-down late in the first period but gave up an escape point in the final second for a 2-1 lead at the end of the opening stanza. Hammer extended his lead to 8-2 in the second period and nearly ended the match when he collected a three-point near-fall.
The Santa Fe fans roared just as loud for Donley, however, and he responded with energy and enthusiasm. The gym shook, and neither wrestler eased up. If it weren't December, the atmosphere would've convinced you this was a state championship match.
In the end, Hammer claimed a 9-3 victory - worth three points in the team standings. That forged a 39-39 tie, and LHS won the team title in a tiebreaker.
Exhausted and wobbly-legged, Hammer was congratulated by his teammates and coaches. Now the pressure was off, and it was time to celebrate.
Hammer then pointed to his teammates' successes. Fellow freshman Garrett Hinckley lost by major decision but avoided a pin and saved the Lions one crucial team point. Blew, Flynn, junior Grant Hinckley and freshmen Tyler Baughman and Nathan Wessel all pinned their opponents.
"The team's done so well the last two weeks of practice, and I said, 'I can't let these guys down,'" Hammer said after the match. "I just gave it my all."
It was a good first tournament for Hammer, but it was a great day for the Lions.