Seaman edges Lansing boys late
Bonner Springs — For 26 minutes Friday night the Lansing High boys basketball team gave Topeka Seaman all it could handle.
The final six minutes were a different story, however, as the Vikings - a Class 5A state tournament team last year - pulled away for a 56-45 victory in the first round of the Metro Prep Tip-off Classic Tournament at Bonner Springs High School.
Photo Gallery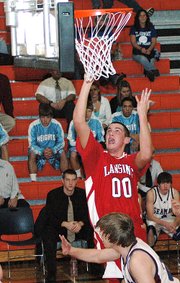 Seaman 56, Lansing boys 45
"(Seaman is) a very good team, and in a lot of ways we played the best that we have in two years in portions of the game," second-year LHS coach Rod Briggs said. "We just had two little spurts where we decided to go on a turnover streak, and that cost us the game."
Seaman led by as many as six points during the first half, but Lansing had an answer for every run. The Vikings opened the game on a 5-0 run, but the Lions responded with a three-pointer from Clayton Hall and a layup by Cody Rush. Seaman later sank three straight shots and built a 15-9 lead, but back-to-back buckets by Kevin Johnson and Curtis Beall kept things close.
The Vikings took a 26-20 lead just before halftime, but a lay-in by Rush and a three-pointer from Bobby Hauver trimmed the Seaman lead to 26-25 at the break.
The Vikings took advantage of turnovers and built a 35-26 lead midway through the third quarter, but again the Lions answered. A turnaround jumper by Rush, a 10-footer by Stephen Didde, a Brian Beall three-pointer, a Didde layup and a bucket by Ryan Delich forced a 37-37 tie heading into the fourth quarter.
"We just seemed to challenge every one of their runs we matched and came back until the very end," Briggs said.
Curtis Beall sank a pair of free throws and knocked down a runner in the lane that put the Lions ahead twice early in the fourth quarter, but things unraveled after that. A three-pointer by Bryce Simons and a steal and jumper by Tanner Barrand put the Vikings ahead for good. Turnovers and missed shots prevented a final rally as the Lions suffered their first loss of the season.
Curtis Beall led LHS with 15 points and Rush had 11; Johnson and Didde scored four apiece; Hauver, Hall and Brian Beall each scored three; and Delich chipped in two. Simons led Seaman with 15 points and Justin Dobler had 11.
Lansing (1-1) next plays at 1 p.m. today against Kansas City (Mo.) East Christian Academy in the Bonner Springs YMCA in the consolation semifinals. East lost to Bishop Miege in the first round, 80-25. Briggs said it's and opportunity for the Lions to rebound from the loss and build on the things they did well.
"If we come out and play with intensity, we'll do very well," he said. "If we come out and don't play with intensity, they'll play with us. We're definitely not to the point now where we can sleepwalk through a game."