Lansing routs
KC

East, advances to consolation finals
Bonner Springs — Less than 24 hours after playing three nearly flawless quarters in a loss to Topeka Seaman, the Lansing High boys basketball team dominated in all facets of the game in a 57-15 rout of Kansas City (Mo.) East Christian Academy on Saturday in the consolation semifinals of the Metro Prep Tip-off Classic Tournament at the Bonner Springs YMCA.
Lansing was stellar on the defensive end by forcing 29 turnovers, it was a force on the offensive and defensive glass - and it held the obvious advantage on the scoreboard.
Photo Gallery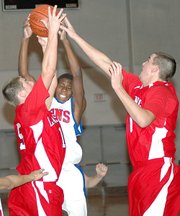 Lansing boys 57, KC East Christian Academy 15
Eleven different players scored for LHS as it put up its most points in a game in coach Rod Briggs' two years at the helm. The 42-point difference also marked the most lopsided victory under Briggs.
"We really got to work on our offense and our defense, and I thought our defensive intensity was outstanding considering there wasn't anybody in the gym and we had to create our own intensity ourselves," Briggs said.
Inclement weather - including icy roads - kept numerous fans from every tournament team at home on Saturday. As a result, LHS created its own noise.
Lansing set the tone with its defense. It forced 12 turnovers and limited East to only five shots in the first quarter while racing to a 16-4 lead. Cody Rush scored six points and Clayton Hall added five during the opening stretch.
The LHS domination continued into the second quarter as it forced eight more turnovers and again held East to five shots. Chris Hill sank a three-pointer and made a layup early in the quarter, and Hall buried a trey and made a layup just before the half as the Lions took a 35-8 lead into the break.
Although it held a commanding lead, Lansing didn't use that as an excuse to play sloppy in the second half. It continued to expand the lead in the third quarter as Curtis Beall made a layup and a floater, Rush swished a free throw, Hall nailed a three-pointer and Ryan Delich scored three baskets. The lead grew to 49-15 by the end of the quarter.
The continuous clock mercy rule was in effect in the fourth quarter because LHS led by more than 30 points. Briggs used the quarter to give his reserves extra minutes, and they delivered. Sloan Blain sank a free throw and scored a basket, Brian Beall swished a three-pointer and Richie O'Donnell made a free throw. Meanwhile, the LHS defense shut out East in the final quarter.
Briggs said he was pleased with the play of the backups down the stretch.
"We've gotta develop younger players because we'll be losing some guys next year," he said. "So we need to develop a couple of our sophomores, and we got three of those guys in tonight and they played fairly well."
Hall scored a game-high 13 points. Also for Lansing, Delich scored eight; Rush had seven; Hill and Brian Beall had five apiece; Curtis Beall had four; and Bobby Hauver, Stephen Didde, Kevin Johnson, O'Donnell and Blain each scored three. Jordan Hahn and Nathan Stahr led East with four points apiece.
Lansing (2-1) advanced to the fifth-place game where it will face Lawrence Free State at 6:30 p.m. Wednesday in the Bonner Springs High School gymnasium. Briggs said the Lions aren't concerned with that game yet. They have business to take care of first.
"We've got Basehor on Tuesday first, so first things first," he said of the 7:30 p.m. home contest against the defending Kaw Valley League champions. "We're just going to worry about that game and try to get ready for a league game. A league championship is a little more valuable for us right now. We know Basehor's really good, and we know they're playing quality opponents where they're at, so we want to be ready for them on Tuesday."