Miege girls block Lansing's upset bid
Bonner Springs — Moral victories are a thing of the past for the Lansing High girls basketball team.
That's why the Lions weren't satisfied after a 54-40 loss to defending state champion Bishop Miege on Saturday in the semifinals of the Metro Prep Tip-off Classic at Bonner Springs High School. They were within single digits almost all the way, but their goal wasn't to lose by a little. They expected a close game, and they expected to win.
Photo Gallery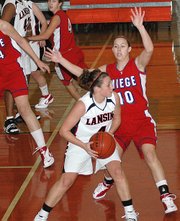 Bishop Miege 54, Lansing girls 40
"We knew that we could play with them," sophomore point guard Amy Briggs said. "It's just : we wanted to win."
Lansing's determination never was in doubt. It showed plenty of poise early by answering Miege bucket for bucket. Midway through the first quarter the score was tied 5-5. The Stags went on an 11-1 run during the next few minutes and had a chance to blow the game open, but Briggs banked in a half-court three-pointer at the buzzer that breathed new life into the Lions and pulled them within 16-9.
"Just the momentum : an 'Oh, thank goodness' deal. It kind of helped there," LHS coach Keith Andrews said of Briggs' long toss. "That was huge."
The shot swung some momentum in Lansing's favor, and it made a noticeable difference in the Lions' energy level as they returned to the court for the second quarter. They pushed the tempo when the opportunity arose, and they were patient while running their offense. They pounded the ball inside and kicked it back out to Briggs for three more three-pointers. At one point they inched within 20-18 on a jumper in the lane by junior Brittney Lang. Ultimately the Stags opened up a 31-21 lead at halftime.
Ultimately, the difference in the first half was free throws. LHS hit three of six from the stripe and Miege was seven for nine during the first 16 minutes. Lansing only turned the ball over five times in the half and forced the Stags to cough up the ball seven times.
"We came out and we played pretty well early," Andrews said. "We were right with them, and then they get a little run and we come back and make another run to get back close. I don't think the kids were intimidated."
Lang knocked down a jumper in the lane on Lansing's first possession of the third quarter, but Miege countered with two free throws from Rosie Youngstrom and another from Jessica Raplinger. The Stags' lead was 34-23, but it didn't last long. Amanda Darrow swished a 16-footer, Katie Nietzke sank two free throws and Briggs scored on a layup after a Lang steal. That whittled the Miege lead to just five points with two minutes left in the third quarter, and the margin remained the same as the fourth quarter began.
Both teams struggled to knock down shots during the final eight minutes, but Miege padded its lead with free throws when Lansing was forced to foul to stop the clock in the final minutes. The Stags sank seven of eight free throws in the final 1:50 to put the game away.
Andrews said he was pleased with his team's effort, and he said their gritty performance throughout indicated that the Lions are improving.
"Best case scenario, we get a win. We didn't get that," Andrews said. "The other thing coach (Carrie Ritchey) and I talked about coming out is this is a gauge of where we're at and where we've come. Two years ago this game is a 30-point blowout, at least. So now we're getting closer, but we've got to build on this.
"From the kids' standpoint, nice individual efforts, nice team effort, but we're still not quite all on the same page every time. That's what we've got to work on and what we've got to build on. This is a great team to play because it doesn't mean anything to us if you lose because everybody else expects you to, but you get the chance to see where you're at and see where you need to be. We want to be up there with them come March."
Briggs led LHS with 14 points, Lang had nine, Nietzke scored five, Darrow had four, Alexis Ellis and Morgan Chiles had three apiece and Christine Cordes chipped in two. Ashley Thayer scored a game-high 16 points for the Stags and went 10-for-10 from the free throw stripe. Adrianna Maurer, a 6-foot-3 sophomore, added 13 points.
Despite losing five starters and three key reserves from last year's state championship team, the Stags (2-1) already are back in a championship game. They'll play for the tournament title at 6:30 p.m. Wednesday against Shawnee Heights.
Lansing (2-1) will play for third place at 3 p.m. Wednesday against Bonner Springs. LHS has a game before that, however. It plays host to Basehor-Linwood at 6 p.m. Tuesday in a Kaw Valley League contest.