History, holiday mix at open house
Photo Gallery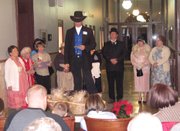 Christmas open house
More than 200 residents braved slick streets and freezing temperatures Friday evening and ventured out to the Leavenworth County Courthouse to take part in the county's second-annual Christmas open house.
Guests exchanged holiday greetings, enjoyed old-fashioned sarsaparilla and cookies and sauntered through all three floors of the courthouse, listening to talks from William "Buffalo Bill" Cody, Reuben Basehor and other notable figures from Leavenworth's past.
The 16 historical narratives were given by residents who volunteered to offer their acting services for Friday's event.
They had been working with the county open house committee and professional instructors from Ride Into History, a historical performance touring troupe, since October.
County Planning and Zoning employee Judith Day, who posed as the fictional Amanda Knight from 1859, told of a bustling young town called Leavenworth, where she saw Abraham Lincoln deliver speeches at Stockton Hall and from the steps of Leavenworth's famous Planter's Hotel.
Bob Spear, who played "Buffalo Bill" Cody at Friday's event, talked about moving from Weston, Mo., to free soil in Leavenworth as an 11-year-old boy. Spear painted a picture of a 'Bloody Kansas' before the American Civil War, sharing the story of how Cody's father was killed at the hands of a Missouri slaveholder.
Guests also heard Carolyn Burton tell of the struggles of Cathay Williams, the only documented female Buffalo Soldier in the Civil War, as she made the tough decision about whether to go to the Army infirmary to treat an injury and risk exposing her true gender to Army officials or suffer in secret.
Other performances on Friday included: Lillian Akins as the wife of an Army officer circa 1830; Diane Collins as Tillie Abeles; Ellen Ferguson as Lizzie Allen; Sally Hatcher as Rosa Anthony; Keyta Kelly as Hilda Clark; Carol McCullough as Harriet Cushing; Vivian Ross as an Army laundress during the Mexican-American War; Mike Stephenson as Judge H. Miles Moore; Daniel Stueckemann as Reuben Basehor; and Aileen Seeman, Anna Mary Landauer, Rachel Kelly and Laura Elkins as the Smith Ladies Aid quilting circle.
Also as part of Friday's event, Laura Phillippi of the Lansing Historical Museum awarded winners of the Leavenworth County History Hunt.
Participants in the historical scavenger hunt were asked to answer various questions about Leavenworth's past using clues that could be found at the county's different historical museums.
The contest's first place winner was Vivian Ross of Leavenworth. Second place went to Jessica Bullock, Leavenworth, and the third place winner was Shari Thompson, Leavenworth.
Winners received gift packages from area historical museums.
Keyta Kelly, who chaired the open house committee said of Friday's event, "I was really pleased with this year's turnout. We may continue this year's theme next year with different characters."
Kelly said for next year's event, which is already scheduled for Dec. 12, 2008, the open house committee might consider having just one stage instead of three, giving guests a larger area to socialize, or adding live music.
A slew of Leavenworth businesses and individuals sponsored Friday's event, which was also funded in part, through a grant from the Kansas Humanities Council.