Santa's Express chugs on at Ag Hall
Neither snow, rain, gloom nor cold stop activities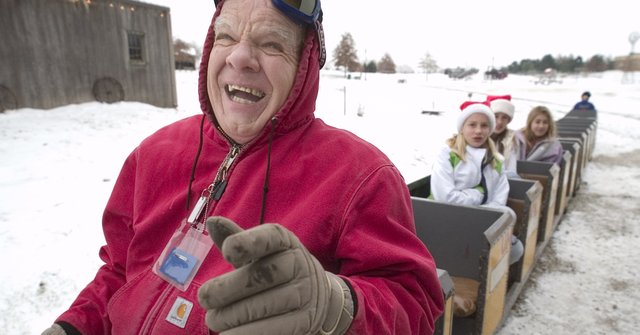 Bonner Springs — Grinch weather didn't kill the Christmas spirit for about 200 people who braved low temperatures and freezing rain for a chance to meet Saint Nick and ride Santa's Express last weekend. Temperatures hovered in the mid-20-degrees Fahrenheit on Saturday, with wind chill making it feel even colder.
"We usually hope for 800-900" said Tim Daugherty, director of the center, for the season's first day.
The cold didn't keep some children from riding the Santa's Express train on its loop around the pond, and awaiting them afterward were other activities inside, and hot chocolate in the general store.
In the depot, a wood stove burned as children sat on Santa Clause's lap to tell him want they want. Well, most of them.
Emily Desko, 3, wasn't having any of it.
"You want to tell me what your name is?" asked the man in the red suit. "You want to write it down?"
Emily kept up the silent treatment despite Santa's valiant attempts at humor, facetiously guessing that she'd like a show shovel, a chainsaw or a car jack.
"She's kind of shy," said Lori Desko, Emily's mother.
Still, she said, her daughter was having a good time, even if "it was a little too cold for the train."
Dylan Deters, 9, of Tonganoxie, asked the man in red for a "four-wheeler."
Dylan's favorite part of the activities at the Ag Hall was seeing Santa, he said.
Perhaps because of the bitter cold, interest was strong in the blacksmithing demonstrations, said Melvin Rice, from the Institute of Educational Historical Arts, in the barn next door to the depot.
Hammering the glowing end of a steel rod on an anvil, Rice said, "there's something fascinating about a guy hitting hot metal. I don't know what it is."
In the next building over, in the general store, 4-H volunteers Brea Wingerter, 7, and Katie Campbell, 14, helped children and their parents make Christmas crafts. Each person got a white paper bag that included red and white pipe cleaners that could be twisted into candy-cane ornaments, and wooden stamps with different designs and colored inks could be used to decorate the bags and the cards that were inside.
"I tell them the stuff they need to do," said Brea, who sipped hot chocolate on a break. "When they're done we have to put the stamps on paper until you can't see the stamp."
Daugherty said he hoped the turnout would improve this weekend, along with the weather.
Santa's Express is a collection of activities for children at the National Agricultural Center and Hall of Fame.
Activities include a miniature train ride driven by Santa Claus, a tractor-drawn hayride to Farmtown, visits with costumed characters in decorated historic buildings, story time and a school sessions in the Smith House. helping with farm chores, story time in the one-room schoolhouse, hot cocoas and cookies, and visiting with Santa in the depot.
There will also be four groups caroling during the event, with two different groups - from churches, 4-H groups and Girl Scouts - performing each day.
ag hall festivity
The next chance for fun at the Ag Center, 630 Hall of Fame Dr., will be from 1 p.m. to 6 p.m., Dec. 15 and 16. Admission is $4, and advance tickets are $3.50 per person, and available from the Ag Hall and Bonner Springs Price Chopper, 501 S. Commercial Dr. Admission is free for children under 1 year old.