BLHS

freshman wins pageant title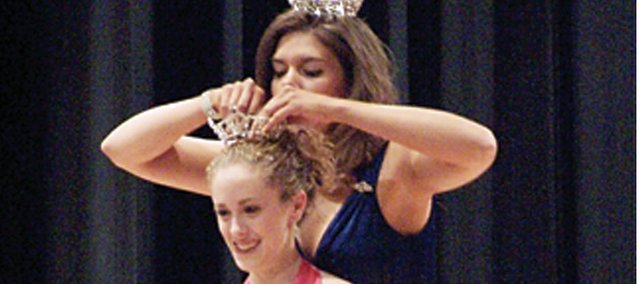 Trying the new and unfamiliar ended up paying off for Basehor-Linwood High School freshman Jessica Farris, the new Miss Leavenworth County Teen.
Involved in just about everything from volleyball to theater, the 14-year-old picked up a flier for the Miss Leavenworth County Teen Pageant recently and decided to add another activity to her resume.
"I've always wanted to do pageants," she said. "It was a great opportunity and I just wanted to try it to see if I liked it. If not I wouldn't have to do it again."
Even though she didn't have any experience, she said, she just prepared as best as she could. She picked out a hot-pink halter style dress for the evening gown competition and deciddc to wear her volleyball uniform for the fitness and sportswear category, where competitors had to demonstrate how they stay physically fit.
"At 4 years old, she was runner up for Little Miss Parkville. That was her debut and she hasn't done any pageants since," laughed Leigh Farris, Jessica's mother. "It was pretty much off the cuff."
Leigh Farris said she had some reservations about allowing Jessica to participate but decided to go ahead and see how it went.
"I've never wanted to hold them back from doing something they wanted to do," she said about her children.
Jessica also practiced singing "Somewhere Over the Rainbow," the song she chose to perform for the talent portion, the entire week before the pageant.
"My voice really shows when I sing ballads and slower songs," she said. "That was the main reason I picked it. It was between that and violin, but my singing is stronger than my violin, so I went with that."
Contestants must also pick out a speaking platform that they feel strongly about. Jessica chose childhood obesity.
"I don't like seeing kids being overweight," she said. "Because I know it's going to hurt them in the future."
As for other aspects, such as pageant etiquette, Jessica said she consulted one of her teachers, Stephanie Harris, as well as the pageant's executive director Elizabeth Jump, for advice.
"Other than that I had no idea what to expect," she said.
Even some of the experienced pageant participants got an unexpected surprise the evening of the pageant, Saturday, Dec. 8, when inclement weather prevented several judges and one of the hosts for the event from attending the pageant at BLHS.
Jump said that while all of the contestants for the Miss Leavenworth County, Miss Wooded Hills and Miss Leavenworth County Teen made it, a few of them got lost on the way and she had to scrounge up a few last-minute judges to make a complete panel. Even though rehearsals began two hours behind schedule, the show went on.
After a whirlwind day full of rehearsals for the opening number, sound checks and interviews and a night full of on stage performances, three winners were crowned two Wichita area natives, Hannah Hendricks as Miss Wooded Hills and Cassie Reimer as Miss Leavenworth County and Jessica Farris as Miss Leavenworth County Teen. Jessica also won a $100 savings bond.
"I was shocked," Jessica said. "But, I actually thought I did really well."
Her favorite part of the day, she said, was the interviews. Following mom's simple advice of "be true to yourself," Jessica said she answered several questions about politics and who she admired.
Jump said speaking in front of others and preparing her platform would be the main areas Jessica will work on before heading to the Miss Kansas Outstanding Teen Pageant, which will be Feb. 16-18 in Wichita.
Trips to some local daycares to talk about her platform to the children, another local pageant next month at Kansas City, Kansas, Community College and some mock interviews will most likely be on her schedule before the state competition.
Jessica's first scheduled performance was singing Wednesday evening at the Basehor Chamber of Commerce's Christmas dinner.
"I'm just excited to see what opportunities are out there in Basehor for Jessica," Jump said.
At the state level, Jump said Jessica can expect pretty much the same as the local pageant, except on a larger and more intense scale.
As for continuing her pageant career, Jessica said she will just play it by ear.
"I liked it a lot," she said. "I liked being there and I like what it stands for, but it was a long day."
If anyone is interested in having Miss Leavenworth County Teen 2008, Jessica Farris, speak or entertain at their function, contact Jump at (913) 909-6822.